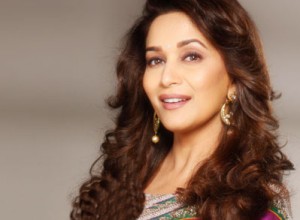 She is back and Madhuri Dixit fans are over the moon because the actress is on a signing spree! Though the wait has been a bit fraught with: 'What will she sign in Bollywood???" We now know the wait will be worth it because the actress will be soon seen in some very interesting films. After signing Vishal Bharadwaj's Dedh Ishqiya, which was a surprise to many, her next film is also something out of the box. She will be taking on a a new avatar of a gangster in Anubhav Sinha's home production Gulab Gang.
An excited Sinha informed us, "We have signed Madhuri for Gulab Gang. She would be playing the lead role of Gulab. She heads the gang of women."
Telling us more about the story, Sinha added, "Gulab Gang is a story of a gang of women fighting against social injustice. It is not a biopic nor is it based on anyone. It is in a way inspired by something that happened in UP. It is a fiction."
It was that story and the director's passion that made Sinha want to produce the film, not to mention the idea of having Madhuri play the lead role, "It was director Soumik Sen who narrated me the story and I really liked it. It was his idea of having Madhuri in the film. He met her and she was also extremely excited about it."
Madhuri is most definitely excited, she tweeted, "Have signed second film called Gulab Gang! Go girl power!! Anubhav Sinha to produce, Soumik Sen to direct. Excited!!"
The producer said there will be about six female characters in the film. "We have just finalised Madhuri. Soumik had mentioned that he wants to cast Mahie Gill, Shilpa Shukla for other roles. But I don't know if he has met them and things have been finalized or not. Also, we are looking for a female antagonist," he said.
Produced under Benaras Media Works banner, Gulab Gang would go on floors post monsoon and would release next year on Womens Day, March 8.
Call us colored intrigued we can't wait to know more and will be sure to give you all the news on all of Madhuri's upcoming projects!