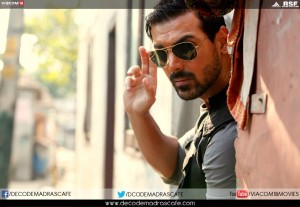 The slow and steady always win the race. A phrase oh so apt for our interviewee today. John Abraham has slowly but surely made a niche for himself not only in the industry but also in the hearts of the audiences. He found a new side to him last year when he debuted as a producer for one of the most successful films of the year, Vicky Donor. This year he returns again with the producer tag but also features in the film. Madras Cafe is all set to hit the screens this Friday the 23rd but before that the producer/actor talks to us a bit about the film and all that went into making it.
Madras Cafe is your second movie as a producer. How has the journey as a producer been thus far?
My first offbeat comedy Vicky Donor got a good national and international success. Post this, I decided to do something more serious and choose a subject which is inspired by real life. After a lot of brainstorming we came up with the idea of creating a political thriller and that's what we have done. I am quite happy with our work. Now just eagerly waiting for its release and to see how the audience reacts to it.
Vicky Donor gave you real success after a long time. Does that make you more confident now for your films?
I was quite overwhelmed with the responses we got for this movie. It was a transforming experience producing this movie. We all have been like a close knit team and worked very hard for it. This success makes me more humble and grounded.
Tell us a bit about Madras Cafe.
Madras Cafe is close to my heart. It is a tense political thriller against the backdrop of the Sri Lankan civil war of the 1980's. July 2013 marked the 30 year anniversary of the conflict, which finally ended in 2009 with the military defeat of the separatist Liberation Tigers of Tamil Eelam (LTTE). Madras Café provides a timely reminder of the gruesome conflict that claimed thousands of Sinhala, Tamil and Muslim lives and left millions of people displaced and desolate. The war's impact was felt across the world with both Eastern and Western nations involved in the negotiations for a resolution.
And your role in the film…
I play the role of Captain Vikram Singh, a successful Para Military Officer recruited by the R&AW's (India's external security agency) Indian head Robin Dutt (RD) – with the mandate to execute certain covert intelligence operations in Jaffna, Sri Lanka, and conduct peaceful provincial council elections.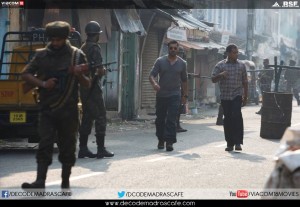 How would you say your role differs from all your earlier films?
I have done a few commercial films before (Jism, Dhoom, Force etc.), showing off my body. That was fun. But this role demands a more serious side of me with a touch of realism to it. The role required me to have a normal and lean body rather than a muscular one.
How does Nargis's role contribute to the film?
Nargis plays a bold role in this movie. She is a journalist named 'Jaya'. Vikram and Jaya together go about finding the truth amongst a complex web of lies and deceit, and begin telling the world their incredible story.
We heard that you approached Freida Pinto for the role first, before taking Nargis onboard?
Yes, we did approach Pinto for the role. She loved the script but unfortunately she couldn't accept the offer as she was doing another film at that juncture.
It is said that your look in the movie is inspired by Tom Hank's look in Cast Away. Any thoughts on the comparison?
Deciding on my look for the movie was quite challenging. It took lot of brain storming and we finalised this messy look, which apparently you think is inspired by Tom, but actually it's not.
John as an actor and John as a producer. What's your calling?
I was interested in an advertising career before modeling. So now, as a producer, I am exploring that potential of mine and I love it, though it is a huge responsibility. As an actor, I am very much engaged in the acting part as well. The critical point is the belief in the script which, of course, I have. It is quite close to my heart.
Do you think Madras Cafe could face controversy?
I don't think so. This story is thoroughly researched from authentic sources. It cannot hurt the sentiments of Sri Lanka or Tamil Nadu, or in fact of anyone who sees the film. It is surely inspired by true events but it doesn't mean it should be banned or face controversies.
There's a lot of buzz going around that the Sri Lankan President Mahinda Rajapaksa secretly finance Madras Café.
This is a false statement. Viacom 18 is the official producer of Madras Cafe.
Will Madras Cafe be released internationally?
We do plan to release the movie internationally, especially in Sri Lanka , to let the locals know that the movie is not anti Sri Lanka or anti Tamil.
Support John and his team in this ambitious venture this Friday when Madras Cafe releases in cinemas.