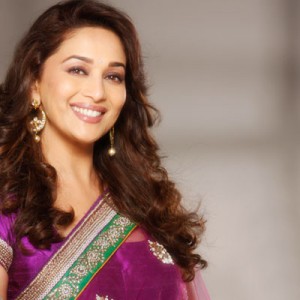 Madhuri Dixit: fabulous actress, amazing dancer and that smile that lights up the screen and the world. She creates magic on screen. To celebrate her birthday and to celebrate the Dancing queen coming back to Bollywood we polled some of our writers to find out what was their favorite Madhuri Moment on screen. Many could not think of just one and had, had, had to write about more than one, even up to six yes six! Sit back, relax and enjoy some of our favorite Madhuri scenes and of course dances!
Charla
Aur Paas…(Dil Toh Pagal Hai, 1997)
My favorite scene involves Shah Rukh Khan and Madhuri Dixit and is from the movie Dil Toh Pagal Hai. According to me, this is one of the most romantic scenes ever (and what else to expect from a Yash Chopra movie), but with a playful touch and that combo makes the scene so interesting to watch. And then of course you need to have actors who can carry that off. And who better than SRK and Madhuri Dixit. Curious? I am talking about the scene that comes right after SRK's best friend gets married.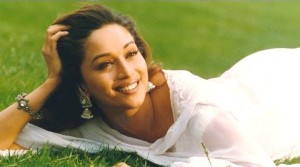 After the couple drives off in their car and everybody waved goodbye, Madhuri realizes she lost her bangles. She runs back to the venue and starts looking for them. Then SRK pops up. She asks him if he has seen the bangles. He says he hasn't. After that she starts to look again when she suddenly hears her bangles. She looks up and sees SRK is holding them in his hand. She tells him he needs to bring them to her. He replies that she can come and get them herself. According to her he is being childish. She walks up to him and puts out her hand and asks him again to give it to her. He says she needs to come closer to get it. Aur paas (come closer).. he says. He plays the game a little longer until Madhuri gets sick of it and gets mad.
Tension rises and the music that is being played  in the background from this moment on to support this scene is just simply mindblowing. It does give you that feeling of tension, yet it gets you in the romantic mood as well. SRK decides to give the bangles to her as he doesn't want to see her mad. She grabs the bangles but then he grabs her hand and gets more serious about her coming closer to him. The chemistry between the two actors in this moment is beautiful, emotional and it gets the viewer involved in the moment. For me, this is one of the most memorable scenes involving Madhuri Dixit.
DTPH scene

'Ek Do Teen' (Tezaab, 1988) and 'Mera Piya Ghar Aaya' (Yaarana, 1995)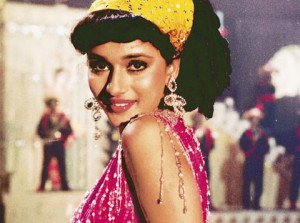 I have told you about the most romantic scene ever, but I would also like to share my personal attachment to the songs 'Ek Do Teen' (Tezaab) and 'Mera Piya Ghar Aaya' (Yaarana) and two of the most famous songs of the 90s. One common thing between the two songs is that they are both are picturized as a stage performance in the movies.
'Ek Do Teen' has been composed by the musical Laxmikant-Pyarelal and was a massive hit. The same goes for 'Mera Piya Ghar Aaya' (music by Anu Malik), although it was inspired (as they call it…) by the hit song of Nusrat Fateh Ali Khan. And as luck would have it, both songs are choreographed by none other than Saroj Khan.
When I was little I use to copy all the dances and with these two songs, it was no different. I knew the dances by heart, like most people did during that time. The most attractive part about both the songs is that Madhuri is dancing with so much excitement, enthusiasm and fun that as a viewer you cannot help but get up and dance yourself. Madhuri Dixit puts in a lot of feeling and that feeling comes across on the big screen. For instance, she has these fine nuances in her expressions which add a lot to the songs. Another thing is that when she dances, the is totally involved in the dance. And I think that is what makes these songs come alive. According to me, She is one of the finest dancers Bollywood has ever seen. She can pull off any dance with ease and make it look all so simple.
Ek Do Teen
httpvh://www.youtube.com/watch?v=iwycoX_aHmc
Mera Piya Ghar Aaya
httpvh://www.youtube.com/watch?v=nqcipAdbGpQ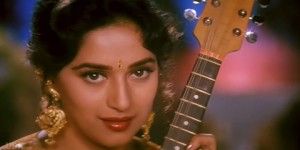 Sheetal
Hum Aapke Hai Kaun (1994)
I must say my foremost Madhuri Dixit moment on screen was her performance in Rajshri's Hum Aapke Hai Kaun. It maybe easy say that I was at an impressionable age and therefore I simply wanted to be Nisha after my first viewing of Hum Aapke Hai Kaun. However, to this very day, every time I watch Hum Aapke Hai Kaun I want a freaky-friday-esque procedure to happen and be zapped into Nisha's body. Nisha was such a captivating character and Madhuri could not have brought her to life in a more magnificent way. She was fun, fashionable, intelligent, inspiring, lively, beautiful and elegant. Madhuri had fantastic chemistry with every single member of the cast ensemble, immaculate comic timing, beyond graceful song sequences and tear-jerking dramatics. In short, she incapsulated the very definition of entertainment. I strongly believe that Indian Cinema will never see such a complete and perfect performance ever again.
See…just a sample of the greatness of Madhuri in HAHK
httpvh://youtu.be/6Uzkpoxj5J0
Ingrid
'Badi Mushkil' (Lajja, 2001)
In spite of a big and illustrious star cast, Lajja tanked at the box office. But at least one scene from this movie will never be forgotten: Madhuri dancing barefoot in the sand, accompanied by a big dancing crowd and towards the end also by her co-star Manisha Koirala. In 'Badi Mushkil', Madhuri proved once again that she was (and is) the best and most amazing dancer of her time in Hindi Cinema.
httpvh://www.youtube.com/watch?v=QFG7p6PpSYk
'Gaja Gamini' (Gaja Gamini, 2000)
It's without any doubt Madhuri's most unusual film. It is even one of the most unusual Hindi films generally. With Gaja Gamini, the painter MF Husain created a sort of living painting, mostly surreal paintings full of myths and symbolism. The title role in Husain's ode to womanhood was played and danced by his muse Madhuri Dixit. The title song shows Madhuri at her classic dancing best though in this scene you never get to see her face. An absolutely fascinating moment.
httpvh://www.youtube.com/watch?v=JrbaZqBCmZk
'Tum Ne Agar Pyar Se' (Raja, 1995)
If you look for a song scene where you can enjoy a) Madhuri's beauty, b) Madhuri's dancing and c) Madhuri's talent for hilarious face expressions, try 'Tum Ne Agar Pyar Se' from Raja , a movie which rightfully should have been titled "Rani" as Madhuri is heart and soul of this film. Her co-star Sanjay Kapoor is chance-less against her – though in this scene he still tries to avert her relentless advances.
httpvh://www.youtube.com/watch?v=RBjG-sXUnlU
'Choli Ke Peeche' (Khalnayak, 1993)
It's one of the first songs you think of when you hear the name Madhuri Dixit. In the much talked-about song 'Choli Ke Peeche' from the superhit Khalnayak Madhuri showed her amazing dancing skills and left not only her co-star Sanjay Dutt in awe. But Sanju obviously studied her very well for later in the film he copies her dance to cheer her up. It beggars belief how Madhuri could remain so serious while watching the gangster gang dancing 'Choli Ke Peeche' for her. Too good.
Madhuri's version: http://www.youtube.com/watch?v=_X4_YZJWWO4
Men's version: http://www.youtube.com/watch?v=nfVO_F6FQik
'Tamma Tamma Loge' (Thanedaar, 1990)
It was indeed a magical moment when Sanjay Dutt, until then known as a non-dancer, appeared besides Madhuri in 'Tamma Tamma Loge' (Thanedaar) and danced like never before. He had trained like a madman to meet the challenge of shaking a leg together with the dance goddess. 'Tamma Tamma Loge' became a cult song and is even today immensely popular.
httpvh://www.youtube.com/watch?v=t1iFzqdn71w
Prateeksha
'Humko Aaj Kal Hai' ( Sailaab, 1990)
This hit song from the 1990 film is one of the favorite Madhuri songs of mine for the simple reason that this dancing diva makes looking sexy and innocent at the same time so darn easy! Her dance style, grace and the 'ada' are no strangers to movie buffs and it's something we often find missing today. Mads shows us how to be sexy without being vulgar. Just watch how she seems to be living the song and not enacting it.
httpvh://www.youtube.com/watch?v=PPvBBnljPAc
Trupti
'Saaso ki Mala pe' (Koyla, 1997)
Where do I even begin?! I've been a fan of Madhuri dance and her smile since forever. My most favorite Madhuri moments are from two movies (if i really really had to pick which was a task in itself!), one is a song called 'Saaso ki Maala pe' from the movie Koyla which stars Shahrukh Khan opposite her. The song according to me was soo grand in it's simplicity. It captured everything Madhuri which is her love for dance. Delicately graceful hand gestures mixed in with powerful dance moves and the drum beats just make this the song perfect. Beautiful choreography, beautiful music and lyrics, beautiful Madhuri.
Statue scene from Yaraana (1997) with Rishi Kapoor
My second favorite is from the movie Yaraana a song named 'Jaadu jaadu' where her character Lalita pretends to be a statue because she is running away from JB aka Raj Babbar who wants to marry her and has been keeping her locked up in his house until wedding day. Rishi Kapoor being drunk thinks he's just seen a 'statue' move. So in that drunk state he carries her making it a funny scene because Madhuri is standing completely upright! I personally don't feel that there has ever been a better doll-faced statue than Madhuri in this scene/song. (Scene starts at 4:02 marker)
Stacey
'Dola Re Dola' (Devdas, 2002)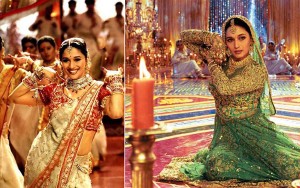 When you think of Madhuri and dance sequences then the two from Devdas have to come to mind. One of the greatest dance sequences ever filmed has to be 'Dola Re Dola' that featured not only Madhuri but also Aishwarya Rai. It just does not get any better than that scene and that dance number! I still am in awe every time I watch it.
Here is another cool thing: One of our writers experienced 'Dola Re Dola' first hand under Saroj Khan. Charla says: A few years ago, choreographer Saroj Khan came to Holland to give a masterclass on dancing. As I am totally into dance, I decided to take part and see if I can reach a certain level that was expected of Bollywood dancers. The first song I was made to perform on was in fact 'Dola Re Dola' from Devdas. Here I was, with  my street dance attitude and no classical background…and the only thing I could think of was how the hell was I suppose to do this. Khan and her assistants were very helpful and gave good instruction on how to get the posture right. I practiced everyday for a few hours to nail it. Madhuri and Aishwarya make it seem so easy in the video, but then again they are trained dancers. Even though the class was not made to dance to the whole song, we learned a lot about classical dance and how things went during the choreographing of the song. To be taught by Saroj Khan herself was a wonderful experience and one I will cherish all my life. And btw I nailed the masterclass and past with an 8.
httpvh://youtu.be/s9oeBzNBIso
'Maar Dala' (Devdas, 2002)
Of course 'Maar Dala' has to be mentioned as well. You can literally feel every moment of this, the desire, the resistance, the pain and it is brillant to watch. It shows the true power and magic that Madhuri just exudes on screen.
httpvh://youtu.be/9oJOzvHyS_k
'Laila Majnu' (Aaja Nachle, 2007)
I admit that many a time I have sat and just marveled at the cool choreography and amazing dancing I have seen in many Bollywood movies. But never ever was I so moved and so incredibly overwhelmed by a piece that, like the audience on screen, I was to stunned to even react and then when I did I actually clapped! Yes, watching it at my house, by myself, I clapped. This is not a simply a movie song promo, or even a dance sequence… this is art. Trust me if you have not seen it take the time and be awed! I have never seen anything as amazing and moving as this. Brilliant and many other adjectives!
httpvh://youtu.be/n0tlRuT0H2Q
So there you have some of our favorite Madhuri moments! Tell us what are some of your favorite Madhuri Magical Moments!
With contributions by Charla Manohar, Ingrid Zellner, Prateeksha Khot, Trupti Kantilal, Sheetal Tiwari and Stacey Yount