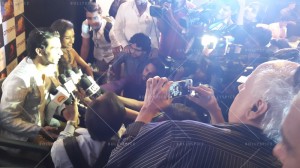 Citylights trailer was launched today in Delhi and present at the launch were Rajkumar Rao and Patralekha along with the Director Hansal Mehta and Producer Mahesh Bhatt.
What really caught everyone's attention was Mahesh Bhatt's enthusiasm at the launch.
A source close to the team said, "It was the 1st media event for the film and he was extremely happy as he received some very good feedback for the trailer. In fact he was on a picture clicking spree when Rajkumar Rao and Patralekha were interacting with the media as he was very excited since it was Patralekha's 1st media interaction and he extended all the support to the team."
Citylights is a compelling story of Love, Struggle and Survival.
In the words of Mahesh Bhatt, "Citylights is a moving love story that begins in a village and peaks in a city."
Check out the trailer of Citylights right here!