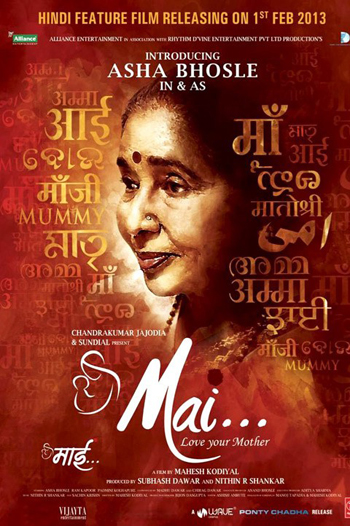 Mai is a recently released drama which sees the legendary singer Asha Bhosle making her acting debut as the leading heroine of this film. It also stars Padmini Kolhapure, Shivani Joshi and Ram Kapoor in supporting roles, and is now in cinemas for you to check out. The film is about an elderly woman who suffers from Alzheimer's disease and has been shamefully neglected by her four children. The music to this film has been composed by Nitin Shankar, who has previously created songs for films like Bombay to Goa (2007). The lyrics have been penned by Manoj Tapadia, who has written songs for films such as Manorama Six Feet Under (2007) and Cheeni Kum (2007). Sahil Sultanpuri appears as guest lyricist for the song 'Dhakku Makkum'. You have heard his work on Kudiyon Ka Hai Zamaana and Kaali Ki Saugandh. So let's take a look and see what Mai has to offer.
First up we have the title song Mai which is performed by the wonderful and evergreen Asha Bhosle. The song has a melancholic feel to it and has been sung very well by Ashaji (not surprising since she almost always delivers vocally). However, the composition was too lengthy and a tad dull to listen to. Thus, it is skip-worthy in my opinion since the song fails to grip you.
Next up we have Chandaa Ki Bindiyaa, which is again sung by Ashaji. There are a number of instruments which are apparent in the song, which include the flute and the piano. I loved the smoothness of this composition and it has been performed wonderfully by Ashaji. The song has nice warmth to it which I am sure will appeal to many. Definitely worth listening to!
There is also Dhakku Makum, which has been sung by Amit Kumar and Zanai Bhosle. It contains up-tempo samples and instruments such as the dhol-drums in order to give it some zing. However, this unfortunately does not give it that catch it needs in order to remain in your mind afterwards. The vocals are mediocre and therefore, the singers could have done a better job in releasing some energy through their voices. Overall, it is an average song, which could have been so much more. There is also a remix to this song which is very weak and has no life to it. It is probably one of the most tedious remixes I have heard in recent times. Avoid listening to this in my opinion.
Following this we have Loag Yahaan, which is performed by the charismatic Sukhwinder Singh. I enjoyed the strumming of the guitar in this song and of course, Sukhwinder gives it his all in this song. He manages to successfully exude emotion through his voice and this gives the song a nice shape and feel to it. Another great one which you should not miss out on hearing!
Finally there is Learn to Adjust, sung by Arjun Kanungo and Payal Dev. It contains a run-of-the-mill composition, with a rock and roll ring to it. Honestly, there is nothing about this song which fascinated me. It is uncreative and lacking in appeal. The same can also be said about the remix, which was unnecessarily included in this album. Both these versions are worth skipping since they are lacklustre in the musical sense.
In conclusion, I was disappointed with the soundtrack to Mai. The only two songs which are worth listening to are 'Chandaa Ki Bindiyaa' and 'Loag Yahaan.' The rest are just tiresome to hear and also lacking in creativity. Though Asha Bhosle deserves praise for continuing to work at the age of 79, Mai was an album that just did not work for me. I am sure many listeners will agree with me when they try the album out for themselves.