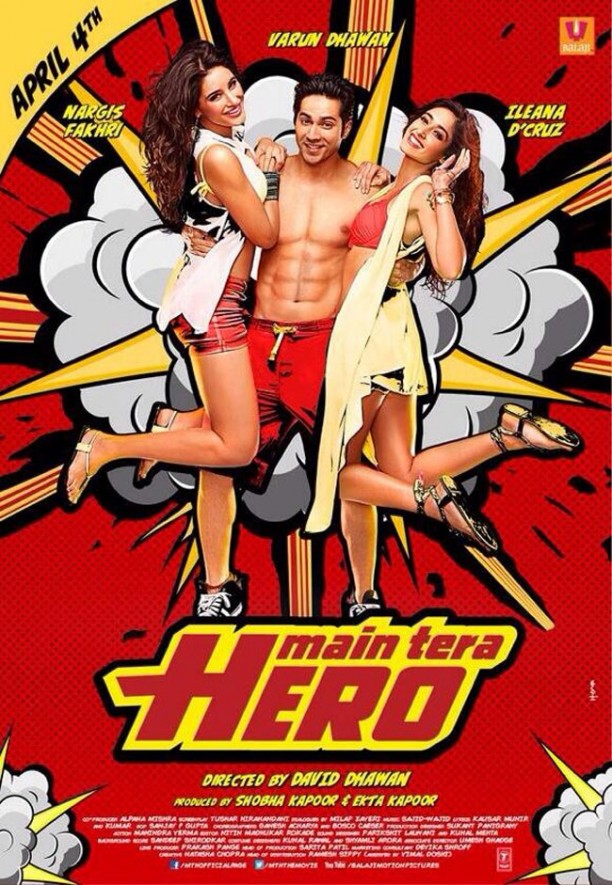 Main Tera Hero is the first collaboration between comedy director David Dhawan and his son Varun Dhawan, who will be seen as the male lead. Also starring Ileana D'Cruz and Nargis Fakhri, the film is scheduled to release on 4 April 2014. Let's hope that David and Varun's collaboration is a success and that they will create some great comedic moments in this film. The music for Main Tera Hero has been composed by Sajid-Wajid, with lyrics from Kumaar. So is Main Tera Hero an album worth listening to? Read on to discover our verdict!
First up we have 'Besharmi Ki Height' sung by the great Benny Dayal and the wonderful Shalmini Kholgade. I like how the song opens with a nice strumming of the guitar and then quickly goes into techno mode. However, the song soon falls flat and I actually found myself daydreaming during parts of it. Unfortunately, the song just doesn't have a strong hook to it which will enable you to connect with it. Having said this, there is a remix of this by DJ Notorious which is far better and catchy in contrast to the original version. I'm pretty sure that many will favour the remix more due to the great drum and bass elements to it.
Following this we have 'Palat – Tera Hero Idhar Hai,' which has been performed by the immensely talented Arijit Singh. I loved this up-tempo number which is full of flavour. In addition, Arijit is phenomenal in this song and delvers some amazing vocals. It can be safely said that this one verifies Arijit's versatility as a singer and he can sing more than just soft numbers. Definitely a cool song which you should not miss out on hearing!
Next up we have 'Shanivaar Raati,' sung by Arijit Singh and Shalmali Kholgade. I had a mixed reaction to this one. On the one hand the vocals by Arijit and Shalmali are well delivered and they couldn't have performed any better. However, the music is mediocre to some extent, though parts of it were not that bad. Having said this, I would classify it as an average song which will not appeal to all. There is also a remix of this song which has been composed by DJ Chetas which is equally dull and lacking in qualities that you would anticipate from a remix.
Finally we have 'Galat Baat Hai,' a duet by the lovely Neeti Mohan and the super talented Javed Ali. I did like the structure of this song and I think it has been respectably composed. Though it is by no means outstanding, it has been produced with the right aim; which is to create a catchy upbeat number. Do give this one a listen too as it may win you over.
To sum up, it is clear that Sajid-Wajid composed the music of Main Tera Hero with the aim of making it a feel-good album that will appeal to the masses. Having listened to the album in full, I found that they have, to some degree, met this aim. I do think that the album could have been a much more exhilarating listen if songs like 'Shanivaar Raati' and the original version of 'Besharmi Ki Height' had more of a ring to them. Having said this, I still think that Sajid-Wajid have put in a good effort with this album and it therefore definitely deserves a listen!