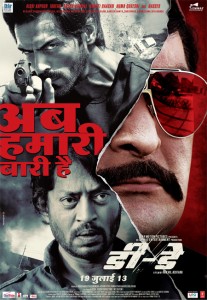 Ever since the first promo of Nikhil Advani's 'D-Day' had been out, audiences have been waiting eagerly for this action drama. Finally the day has arrived, and the movie is all ready to create a blast at the box office. The B-Town celebs who have seen the movie, have been praising it endlessly.
Superstar Amitabh Bachchan tweeted, "Everything about 'D-Day' is awe inspiring! The writing the execution and the performances … brilliant!! So uniquely crafted!".
Hrithik Roshan wrote, "2 things I believe right now 1) D-Day is a fantastic film n 2) it's @rampalarjun 's BEST performance till date! U may take my word 4it."
After watching a special screening, ace director Karan Johar said "It is taut, gripping and incredibly made. It has a strong emotional layer that gives it gravitas and the performances are top notch." 
Dia Mirza said, "So brilliantly cast! Every single character leaves an indelible impression. @rampalarjun @irrfan_k @humasqureshi #Shriswara are BRILLIANT"
Arjun Rampal is overwhelmed with the response to the film and tweeted today, "Thank you so much for the wonderful response, I retweet some reactions to show my gratitude. I am filled with your love. I send loads back."
With such strong reviews coming in, the movie is surely going to create a dhamaka at the box office. Directed by Nikhil Advani and Co-produced by Essel Vision Productions, the film stars Rishi Kapoor, Irrfan Khan, Arjun Rampal, Huma Qureshi, Shruti Haasan, Nasser, Chandan Roy Sanyal and Shriswara.