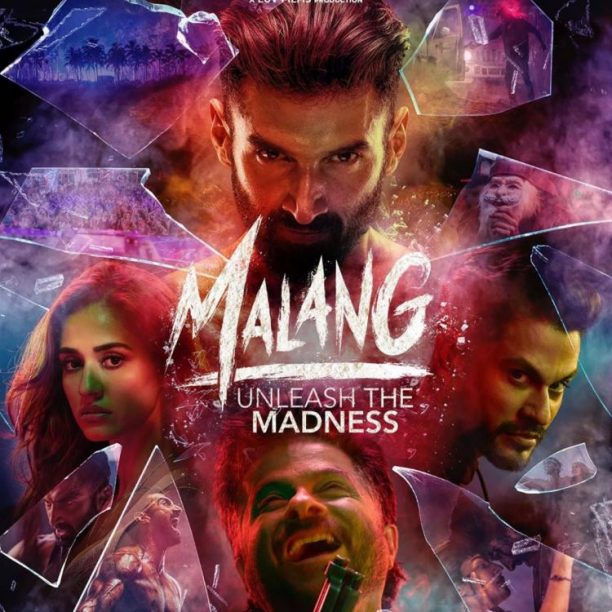 Malang
Starring Aditya Roy Kapoor, Anil Kapoor, Disha Patani, Kunal Khemu
Directed by Mohit Suri
Not quite as noire-ish as Alfred Hitchcock would have liked it to be, and yet dark enough to qualify as a dishy thriller, Mohit Suri's Malang has enough moments of anxiety and despair to keep lovers of suspense thrillers perked up till the very end.
This is the kind of yarn that feeds on the suspense genre and nourishes its strong antecedents by giving it a forward push. Mohit Suri has never shied away from looking at the dark side of the human heart. In Malang, he juxtaposes the discovery of love with the exploration of evil in a seesaw of hope and mayhem that simply, or maybe not so simply, keeps us riveted.
Yes, there is an element of trying-to-be-clever and look-how-smart-my-narrative-is that tends to show up unannounced, for instance the lengthy fight that opens the film. Furniture crashes, bones break as our hero Advait (his face hidden from camera view) hurtles through a gauntlet of violent inmates in prison. This opening is designed to get us involved. And it succeeds.
The very next brilliantly written sequence has Anil Kapoor playing a cocky ostensibly uncouth cop in Goa whipping up a chatty conversation with a club owner (Makarand Despande) only to gun him down cold-bloodedly.
Goodness, is that a spoiler? A majority of episodes in Malang are designed as anti-spoilers. Mohit Suri who had lately lost his mojo (though I must sheepishly confess I liked his rejected film Hamari Adhuri Kahani) cracks the thriller code with a lip-smacking relish. There is a cornucopia of violence in the plot, more pent-up than is good for the characters' health. And when the violence explodes, boy, it really manifests itself in streams of unstrapped bloodshed.
Countering the brutality of Suri's Goan saga (written by Annirudh Guha with a ferocious eye for sanguinary solace) is the film's core relationship between two commitment-shy drifters who meet in Goa and reluctantly fall in love. There is some genuine chemistry between Disha Patani and Aditya Roy Kapoor at play here. And Vikas Sivaraman's camera loves them. They don't only look good together, they also succeed in sucking us into their shared life which goes from detachment to damnation via some trenchant writing that accommodates troughs of unbearable conflict and violence.
Roy Kapoor has to go through several stages of character transformation from drifter to lover to assassin, and he has worked hard on his body language to appear languorous or lithe, whatever the requirements of the script. Anil Kapoor with his hyena laugh and alcoves of shock actions leaves a lasting impact. Here's an actor who never fails even when the script lets him down. And this is certainly not one of those occasions.
But it is Kunal Khemu, a Mohit Suri favourite, who takes an intrinsically powerful script to the next level. He plays a seemingly routine cop with a dark embarrassing secret that he would go to any lengths to conceal. Through this character, Khemu tacitly questions age-old notions of mardaangi and machismo. This is a fearless performance that shows Khemu to be what he is. An underused neglected actor.
Malang has many surprises in store. It is not the most perfect of films. But it celebrates its own imperfections in the same way that it celebrates its doomed protagonists' fatal flaws. Everyone deserves a second chance. The way Malang combats destiny to give the lovers a second chance, is a story in itself.
Some other time.