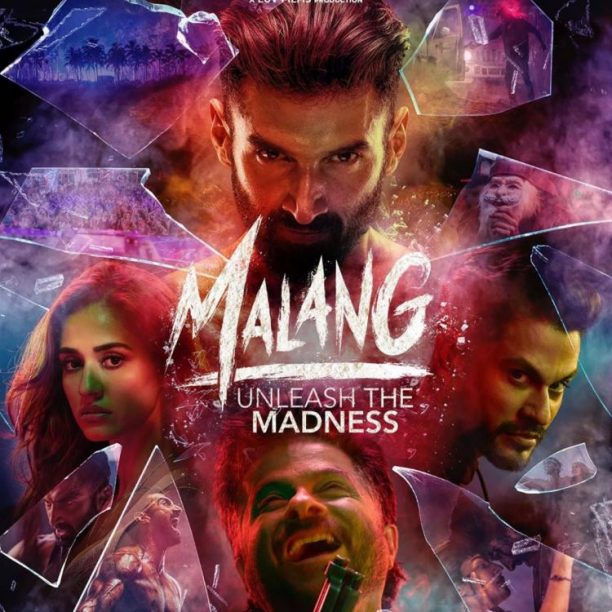 Part psychological thriller, part beautiful love story, Mohit Suri's film Malang was 2020's first major release. Starring Aditya Roy Kapur, Disha Patani and Anil Kapoor, this promises to be both action-packed and sweetly sung. It's a film in which peace is to be found by living life to the 100%… reaching from one high to the next. Yet, this is against a backdrop of darkness which comes hard to the fore, being about 4 killers, each at their own level. The music is being handled by a crew of young music directors in Mithoon, Ankit Tiwari, Asim Azhar, Ved Sharma and The Fusion Project so it could be very interesting.
In an odd turn from the conventions of Bollywood albums, this one opens with Hui Malang, the female version of the title song. Asees Kaur brings a haunting sound to a hard club beat to defeat the stereotype that only men could have evil within. While the lyrics are clear, due to the heavy beat they require concentration to understand and while listening its easy to just let the synth rhythms take over. As the song is also very long, this quickly becomes repetitive, broken sharply by Disha cutting in to deliver her line from the trailer, but its easily passed over and soon audiences can return to the incessant tones.
There is of course a male version of this sung by Ved Sharma and known as Malang (Title Track) but this is very much more of the same. Still, it's a bit of a novelty to have a proper title song in Bollywood films anymore, so it finds its own way to be different.
To continue the club vibes but in a more happy way the music directors asked Sachet Tandon to sing Humraah. This is more of a journey song, possibly used to backdrop a flashback series of events to give backstories to the main characters. It maintains the edginess of club music but dulls those edges a bit to allow for light, happy and fun times which are conveyed through clapping. Unfortunately, the unchanging nature of this very long song make it very repetitive and easily glossed over.
In a previous Mohit Suri film, Ankit Tiwari wrote and sang a song for Aditya Roy Kapur which went on to be the smash hit "Sunn Raha Hai" from Aashiqui 2. So, when this duo is paired up again in Phir Na Milen Kabhi, there is much to be expected. What is delivered, however, is a soft and sweet combination of acoustic guitar, piano and synth violin behind a quite weak version of Ankit's voice. Possibly due to the bitter taste that the lyrics leave in the mouth, the song slowly takes on more of any angry rock vibe but never gets above power ballad that's lacking energy. In doing so it becomes extremely repetitive and hard to keep interest in.
In a similar track is Chal Ghar Chalen (feat. Arijit Singh) sung by Mithoon. While this is both the ending song and the last in the album (again a new convention for Bollywood in 2020), it really seems to be as if all parts of the film are being brought to an end. Where often in 2019, films would end on a remix or remake Punjabi or dance song, this feels more like a serious finish. "Chal ghar chalen mere hum dum" doesn't leave a lot to the imagination of future outings or even a happy ending. Even the singers seem to get further and further away as if to say all is done.
Depending on the overall feeling the story of Malang is aiming for, this album is either a perfect fit or an empty promise. It has the right noises for a dark, gritty tale but is so long and repetitive that it quickly drowns itself into the background. Hui Malang by Asees Kaur seems to be the main song, both in terms of this album and all the promotional work for this film, but it doesn't stand out against a lot of other songs except for its grittiness.
On the other side of things, even a touch of Arijit Singh's magic isn't enough to make Chal Ghar Chalen a song to keep listening to and so overall it lacks a fizz. But again, this could be perfect for the message the film is trying to deliver.