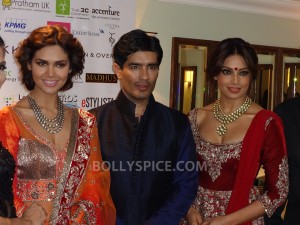 Manish Malhotra celebrated 100 years of Indian Cinema in London last week with a fashion show at the ARTiculate Pratham Ball 2013. Pratham is India's largest education NGO working to improve learning levels amongst underprivileged children.
Actors Bipasha Basu and Esha Gupta, who are in the UK filming for Sajid Khan's Humshakals, also walked the ramp in Manish's special collection celebrating 100 years of Indian cinema. Manish Malhotra's unique collection was inspired by the three main eras of fashion in Indian Cinema, spanning from 1913 to 2013.
It was a star-studded affair with a host of British Asian celebrities such as Gurinder Chadha and Preeya Kalidas as well as Bollywood celebrities Fardeen Khan and Anurag Kashyap in attendance.
Speaking to the press after the show, Malhotra said, "London is one of my favourite cities. Bipasha and Esha were already here. They are friends and represent a contemporary Indian cinema as they are young, glamorous and everything looks good on them. I am here for everyone to see what India has become and what Indian cinema is like."
Talking about her association with the fashion show and Manish Malhotra, Bipasha Basu said, "If you are a Bollywood actress, you have to love Manish Malhotra. He is definitely one of the first people who come to your mind when you talk about Bollywood cinema. I am here for Manish. And yes, Pratham is a great cause and they do a lot to educate children. It's one of the best things you can ask for. We were in London already and it has been wonderful evening."
I have just known Manish for a few months. I have just worked on a film with him. It's just been a year since I have been in the industry. When you think who you want to work within the industry, Manish is definitely a name that comes to your mind. I just got lucky to work with him and thankfully he liked me enough to call me for events and I am always happy to support him. Pratham is, of course, a great organisation. Children are the future of our nation and it's great that someone is doing something for the underprivileged children of India."
Proceeds from ticket sales and an exclusive live auction went towards the Pratham Institute which focuses on providing young people with the employability skills needed to address India's growing need for skilled manpower.