A sophisticated interface, easy accessibility and custom orders – for fans and clients in different parts of the globe who love his fashion and eagerly await his latest collections, Manish Malhotra will now be available at just a click of the mouse. Always an influencer, Manish Malhotra is now also leading the way exploring the exciting fashion e-commerce space by launching his own website www.manishmalhotra.in
He is proud to collaborate with Exclusively.in, the leading e-commerce portal for Indian fashion, which brings the best of Indian fashion on to a global online platform. They have created a world-class web site for Manish Malhotra to retail internationally and his clients can now purchase his latest collections (diffusion and bridal- that caters to both men and women), all with easy browsing and payment facilities.
Speaking on this important milestone, Manish Malhotra says, "Our customer base extends to USA, UK, UAE, Canada, Europe, Singapore, Hong Kong and many other parts of the world where they look forward to wearing our latest collections. They don't have access to our brick and mortar stores, but we are bringing the same personalized experience to them online. The internet and has made this world a small place, and we want to take advantage of the accessibility it provides to reach out to our customers worldwide."
The newly launched online store will provide shoppers a full experience to view products, zoom into the detailing and purchase from any part of the world as well as place custom orders. By harnessing its technical know-how and e-commerce infrastructure, Exclusively.in has been able to provide a fully powered website, with a complete turn-key solution for Manish Malhotra, creating a win-win synergy between both companies.
To view the website please visit: www.manishmalhotra.in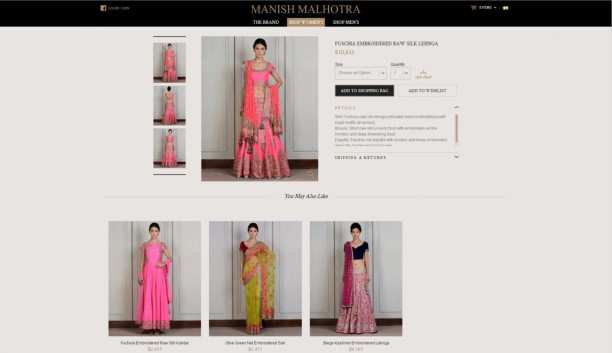 About Manish Malhotra:
A pioneer in Indian fashion, his diffusion label 'MANISH MALHOTRA' has become a major success since its launch in 2005. His repertoire includes a diffusion range, bridal wear and couture and his label is synonymous with opulent, contemporary Indian wear. His intention has been to create glamorous ensembles with Indian traditional colors, textures, embroideries, and craftsmanship. It is no surprise that his designs are the first choice of some of the most high profile men and women in Bollywood, politics, and also industrialists, corporates in India and around the world.
Having designed the look for about 1000 films, Manish Malhotra's genius has redefined and modernised costumes in Indian cinema and he is behind the on-screen, red carpet and personal styling of the biggest actresses of Bollywood from Madhuri Dixit and Rani Mukerji to Kareena Kapoor and Deepika Padukone.
He has showcased his collections not only at Fashion Weeks in India but also across the globe in cities such as London, Muscat, New York and Dubai to name a few. In 25 years of his career Manish has received nearly 35 awards and he has been felicitated by National Institute of Fashion Technology, Delhi, the Rajiv Gandhi Award by the Mumbai Pradesh Youth Congress 2002 and the Indo American Society for his contribution to fashion designing.
2013 has been a landmark year with the launch of new stores in Mumbai and New Delhi. His first stand-alone store in the capital introduces a whole new world of refined luxury with the designer's couture pieces, latest diffusion line and his signature bridal wear. Mumbai's two-storied store exclusively houses Manish's diffusion line at special prices to cater to his younger clientele. His influence on the youth can be gauged by his popularity on social media, which includes almost 4.5 lakh followers on Twitter.
Manish Malhotra as a brand is a story of evolution – from being an influencer in the movies to creating garments that romance modern India with traditional craftsmanship, heritage and culture.