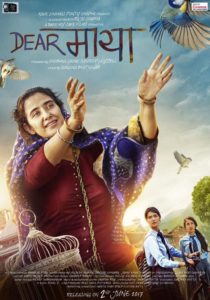 Dear Maya
Starring Manisha Koirala, Madiha Imam,Shreya Chaudhary, Rakeysh Omprakash Mehra
Written & Directed by Sunaina Bhatnagar
First things first. Dear Maya is a dear little gem of a film that you would want to hold close to your heart. As debutant director Sunaina Bhantangar charts a course through the heart of her beautiful protagonist Maya, the narrative tugs at your heartstrings without being manipulative or excessively maudlin.
Among the many aspects of the film that left me deeply moved is its controlled emotion projection. This could have been an overwhelming story of a beautiful lonely woman and her faithful washed-out woman-Friday fading away in her self-created isolation in the anonymity of a hill station (something like our Bollywood diva Rekha, if she were not a celebrity) until, one fine day, when she is suddenly jostled into a delayed blossoming.
Manisha Koirala plays the wilting flower with heartbreaking integrity. She is a feast for the senses. This film is remarkable for how capably it uses this actress' beauty and the feast.
Though Manisha's Maya is central to the plot and her name is mentioned in almost every scene, director Sunaina Bhatnagar uses Manisha incandescent physical presence sparingly. This is a wise narrative device. Every time she is on screen Manisha leaves you craving for more, not only because she is exceptionally watchable but also because her character is written as an epitome of enigma. The more we are told about her the more we want to know.
The narrative works on two basic human emotions: hope and guilt. While Manisha's Maya erupts in belated bliss after she receives love letters from an unknown admirer, the two young female protagonists Anna (Madiha Imam) and Ira (Shreya Chaudhary) are the unlikely catalysts for Maya's metamorphosis.
Dear Maya is as much Maya's story as it is about the two fun-seeking girls who blunder into a lifelong regret and guilt. With remarkable restrain this little film with a big heart tells us how a moment of judgement-error in life can effect and change lives forever.
While Manisha owns the film in every frame that she occupies (the camera has always been in love with her though she has not always reciprocated that love) Madiha Imam as the guilt-ridden Anna is a significant find. A younger, more sorted version of Anushka Sharma, Madiha takes Anna's character through a memorable labyrinth of emotions all delicately threaded together in a stirring motion of frozen thoughts.
While we witness Maya's journey into self-actualization we also see Anna's friendship with her best friend Ira go through its upheavals. Apart from one lengthy confrontation/breakdown sequence which both the young actresses are unable to handle, Madiha Imam and Shreya Chaudhary lend a supple tonal honesty to the proceedings.
But make no mistake. As she transforms from a repressed woman in Simla to a self-dependent life-loving diva in Delhi, Manisha again confirms her place among the greats.
Towards the end filmmaker Rakeysh Omprakash Mehra shows up in a surprise role lending credence to the growing feeling in the audience that Dear Maya is a sum-total of far greater human traits than hope and guilt. What this film says about a live well-lived is so much larger than its immediate concerns.
Dear God, don't let Dear Maya drown in the din of the Baahubali, Baywatch & Wonder Woman.