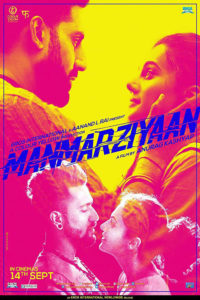 Manmariziyaan refers to the instinctual belief that the heart does whatever it wants. The new film starring Abhisekh Bachchan, Vicky Kaushal and Tapsee Pannu follows this instinctual belief from its beginning to its hopefully happy end. Even though the story is Punjabi and is set in Punjab with involving Punjabi characters, it gives a modern look at romance, love and lust; themes that will resonate across the world as Tapsee makes the tough choice between the wild Vicky and the arranged marriage with Abhisekh. Releasing 14th September, the film is produced by Phantom films and Yellow productions, who have called upon Amit Trivedi to give the audience a 11-track Punjabi musical extravaganza.
Song One of this album is for fun and frolic in F for Fyaar. A real fusion track with a muted hip hop beat sitting under a classical instrumentation choice with dholak and ektara really drives along the fun times this song is for. Vicky Kausal, Mast Ali and Sikander Khalon come together as singers to give it melody and some heavy Punjabi lyrics, which those who are not Punjabis may get lost in. As seems to be the way of these types of songs there is a rap break but it's left till right at the end and sees out a sort of street-dance song. Nothing new here then what is expected of songs in 2018 except that it isn't a remake.
Daryaa follows this up with a more Amit Trivedi branded sound. A quiet opening reminding listeners of the 'good old days' of music, breaks hard into a heavy bass drum and electric guitar combo. Ammy Virk and Shahid Mallya are singing over this which leaves rhythm without a place in the song. It's very repetitive but short enough that it doesn't get the chance to become dull. It does have a nice round off at the end with an instrumental solo by a flute taking over the singer bringing in a sweet closing.
Harshdeep Kaur and Jazim Sharma are in for the next song Grey Walaa Shade. The opening is reminiscent of another Amit Trivedi soundtrack but quickly brightens up with flute, bass guitar and synth work. There is heavy use of English in this one, mixed in with the Punjabi to keep the fun flowing. However, it's lack of any change makes this one hard to stick with and seemingly Amit uses a banjo just to keep this one in the air. This feels like a longer song then the track timing says it is.
Hallaa breaks the fun motif we've been listening to so far with a broken love song filled with sadness. Jyoti Nooran and Romi launch into a tide of sadness bringing in their sufi skills to convey the desperate feelings. A digeridoo provides the main background beat with a banjo to back the singers. While towards the end there is a change to a heavy drum beat from some small bongos, there is no escape from the pain here.
Dhayaanchand comes up next and sweeps away the dark clouds with a sunny happy love song. Hi hat, drums and clapping sound effect all back up this unclouded song. Sung by Vijay Yamla, Nikitha Gandhi, Amit Trivedi and Suhas Sawant, it's very stop and start but still finds flow. Occasionally it switches to pure classical sounds and plays with tempo quite a lot. Just to complete the song for the Punjabis it finishes with a "Chaak Dey".
Next for those who have recently fallen in love there is Chonch Ladhiyaan. Acoustic guitar backs a classic love song opening. This opens into a bit of a folky feel using earthen pots and janglestick. A single violin seems to back the singers who are once again Harshdeep Kaur and Jazim Sharma. It will get you onto your feet for some 'nachna' but the slow tempo and long stretches brought to sudden crashing endings at end of a line do make this difficult to keep up with. To top it off its very repetitive both in music and lyrics which makes it doubly hard to get into.
"Saadi sacchi mohabbat kachhi reh gayi". Sacchi Mohabbat returns us to the weepy vibe, a possible wedding song with heavy use of dholak and sheenai. Jonita Gandhi and Shahid Mallya put full emotion into this song and are backed up by a violin in reverb. Tissues please.
Jaisi Teri Marzi – the title track or possible introduction track. It features a piano rhythm backed by a finger clicking 'beat'. Then the dholak and banjo take over to both liven the song up and give it a change from western to classic Punjabi. Sung by Harshdeep Kaur and Bhanu Pratap Singh, the words seem independent to the tune but since the beat doesn't overpower (and occasionally turns off) this is not actually a bad thing. The singers have all the power and direct the song. It does feel like a background song but certainly could be used on the front line.
And of course, this album couldn't do without a dance track. Bijlee Giregi is 'a girl on fire'. It has a folk feel remix with its English lyrics mixed into some good time Punjabi dholak. Babu Haabi and Devender Pal Singh are sure to hit home with the Gurdaas Maan reference. Though, the song seems to lack any consistent rhythm and the melody has been allowed to drift between heavy pop, folk and hip hop which does make it hard to nail down in any way.
Where there is 1 dance song, why not have a second? Kundaali is an all-girl dance sound in the familiar style that Amit Trivedi introduced with Tanu Weds Manu. An array of female singers have been called upon and none really step out as the main singer for this song. The beat is consistent but not heavy, certainly enough to keep anyone dancing. The lyrics, harmonium and shennai are strongly pointing at a wedding scene.
Finally, the album goes unplugged with Deveshi Sahgal, who is called upon to do a special female version of Daryaa called Daryaa Unplugged. Replace the electric guitar and bass drum combo with an acoustic and banjo and that's the sum total of the song. Nevertheless removing all the background sounds really brings forward the singer's power and she has plenty to give. This is both touching and strong without becoming too emotional.
Compared to a lot of small albums there have been this year this soundtrack looks like a monster. Nevertheless, Amit Trivedi seems to have put his mind to each song individually and has found its essence even if that does seem to be a mixture. As songs on their own each one holds a space and purpose within the film and its storytelling, but also just as a tune if you are in the right mood for it. It is possible however to find flaw here as there are a few songs that don't seem to make any sense without the visuals and at least 1 could have been dropped completely. Still for its good points and its difficulty factor, it gets a high rating.