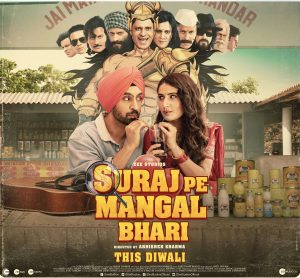 Suraj Pe Mangal Bhari
Starring Manoj Bajpai,Diljit Dosanjh, Fatima Sana Sheikh, Sripiya Pilagoaonkar, Anu Kapoor
Directed by Abhishek Sharma
Suppose Tom was a Sardarji and Jerry a Maharashtrian. And suppose, just for the heck of it, they were at war because Tom was dating Jerry's sister? Funny, no?
Not the most original of ideas for a rom-com on oneupmanship, this comedy has the makings of quite a durable laughathon. It's fun while it lasts, but falls short of breath by overstaying its welcome.
Who makes comedies that stretch to 2 hours and 15 minutes of playing-time? But luckily I didn't find the length unbearable, thanks to Manoj Bajpai and Dilijit Dosanjh whose killer vibes for one another give the comedy the fuel and the fire that it needs to sustain itself to the very end.The supporting cast, too, is incredibly in-mood, all revved up to roar with the uproar and caress the chaos.
Dosanjh is no stranger to light-toned comedies. There is a childlike innocence amd an ingrained sense of mischief to his personality that render themselves effectively to the tongue-in-shriek tone of this retro-comedy. There is a sequence where Diljit tries to impress his girl by pretending to enjoy a Marathi satirical play with much noise and enethusiasm. Diljit nails the part of the over-eager lover-boy, a Romeo with high hormones and low selfesteem, a variation on the role Rajkummar Rao plays in in this week's other sunshiny comedy Ludo.
Fatima Sana Sheikh as Manoj's outwardly docile sister who moonlights is a deejay may be shocking in her conduct for those times. Given today's scenario, she is hardly the rebel with a cause that she's meant to be.
The era is the early 1990s and there are no cellphones. The pager has just come in. The aura of the era of Amitabh Bachchan, Govinda and Mithun Chakraborty is done in an unobtrusive way. And except for one shot where we see an electricity switch that came a good ten years later, the period details, the taxis on the road and the non-toxic chit-chit in the home between mother Supriya Pilgaonkar and son Manoj Bajpai are well played-out. He runs a detective agency in the front room, she operates a beauty parlour in the backroom.
"Your job is to break people's lives mine is to beautify them," Mama wisdom can be quite a showstopper.
Bajpai in multiple disguises plays the "wedding detective" with a wicked streak and the most hideous drag act I've seen in a Hindi film. I must say Manoj carries the saree with even less grace than Akshay Kumar in Laxmmi. He also carries off his character's wicked activities (he likes to spy on men and break up their wedding and marriages) with a full-on temerity .
With Bajpai and Dosanjh providing a fulsome fang-base for the funny scenes, Suraj Pe Mangal Bhari has the audience well hooked to its laugh line, moles, warts and all. The last act leading to the climax is way too tedious. Vijay Raaz's unexpected appearance in the finale livens up the limping closing act. He plays a man with OCD. Of course during those times it was not known as OCD.
At one point in the plot, Dosanjh's best-buddy-sidekick introduces him to a new concept of urban wellbeing. Wohkya kehte hai? Cool! That's what this film tries to be, and succeeds to some extent. If only it hadn't overstayed its welcome.