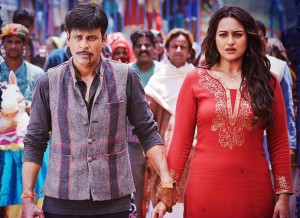 Manoj Bajpayee, the actor known for his ace performance has done it once again. His recent movie, Tevar hit the Box Office on Friday and the actor's performance in the movie has been appreciated to no end by critics and audience alike. We could safely say that the audience went to theatres with the sole purpose of seeing the talented actor at work, especially after raving reviews appreciating the actor's performance poured in.
The National award-winning actor plays a negative role in the movie as Gajendar Singh, the brother of the Home Minister of the State, who is in love with Radhika (played by Sonakshi Sinha) and wants to marry her against her wishes. Also popular as Baahubali- Manoj adds his touch of perfection, by getting into the soul of his character with impeccable dialogue delivery and spot-on imitation of the local dialect.
The talented actor, who had received great appreciation for his portrayal as Bikhu Mhatre in Satya, Virendra Pratap Singh in Rajneeti and Sardar Khan in Gangs of Wasseypur manages to bag one more landmark performance with Tevar by taking his role as Gajendar Singh aka Baahubali to a whole new level of excellence.