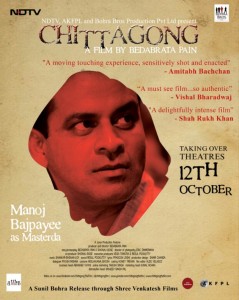 Opening today is Bedabrata Pain's take on the Chittagong uprising in 1930. The director brought together a cast of incredible actors for Chittagong including Manoj Bajpayee, and Nawazuddin Siddique to tell this incredible tale.
Talking about the story of the film Manoj Bajpayee told us, "I am playing a revolutionary from the 1930 movement which happened in Chittagong. His name is Surya Sen, who was fondly called Masterda. He is the teacher that led the movement that comprised of all the children who looked up to him."
This take on the film focuses more on the children and what they did in the revolution, "You know really I am in the second rank, the first rank is covered by the children. They are the heroes of the film," Manoj says.
Chittagong is a true story of a 14 year old boy, Jhunku, and of his journey to find where he belongs. For the first time in Indian history, the British army is defeated by a ragtag army of schoolboys and their teacher, Masterda. Called a traitor by his peers, and let down by a man he trusts, Jhunku impulsively joins the movement. As his world is turned upside down, Jhunku is forced to confront his self-doubts. As the leaders of the movment are progressively caught or killed, Jhunku battles against seemingly insurmountable odds to win a victory of his own. The film is an exciting action-drama, made more so by the fact that it is true.
httpvh://youtu.be/8C7sOtAgpns
The actor says, "Chittagong is a fantastic film. It has shaped up very well and it has been appreciated at all the festivals."
Critics have loved the film, with Subhash K Jha giving it 4 stars saying, "Long live the upsurge of acting talent that has taken over Bollywood."
The Hindi film industry has also raved about Chittagong.
Amitabh Bachchan: "A moving touching experience, sensitively shot and enacted"
Shah Rukh Khan: "A delightfully intense film"
Vishal Bharadwaj: "A must see film … so authentic"
In a video interview, Manoj said, "This film is very important to me. Whenever there is a good film, there is a fantastic script. I did not want this to go to anyone else and I said yes immediately."
Adding, "These are the type of films that actors will be remembered for and I am really honored to be part of this project."
You can see more of Manoj Bajpayee's interview as he talks about fun times on the Chittagong shoot and about playing the role of Masterda and learn more about the film on the official web site Chittagonthefilm.com
Chittagong opens in theaters today. Stay tuned we have more from Manoj Bajpayee about his other film getting ready for its theatrical release Chakravyuh coming up soon!