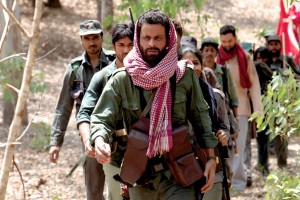 For his films director Prakash Jha always brings together a cast full of amazing actors and that is true once again for Chakravyuh. The film brings into the forefront the war raging in India between the Naxal movement and the government. Told through the stories of six characters it is about a war in which no one can remain neutral. A war that tests their loyalty, their trust, their love… and their friendship. Chakravyuh! A war that no one can escape… Not even you! Not only does the film showcase Arjun Rampal and Abhay Deol in completely new avatars, but once again Jha presents Manoj Bajpayee in a role that shows the actors tremendous talent and ability to get lost inside the character. Manoj plays the revolutionary Rajan the leader of the Naxal movement, which he says was a very challenging role to play. Not only because of the ruthlessness of the character but also the location shoot in the jungles and language. See what else Manoj told me, including what makes him "wonky" in this exclusive conversation on all things Chakravyuh.
What drew you to this role?
It was Prakash Jha, mainly. He wanted me to be part of it and he wanted me to play the role of the Naxal leader. Without hearing the whole script, I just said yes to him because I trust him fully. I knew he would give me something substantial to play. I thoroughly enjoyed the whole experience.
Tell us about your character in the film.
The guy I play as I said is the leader of the Naxal movement. He is a very well read person. He is someone who believes this philosophy and in this armed movement. He is somebody who is looked up to by all the fellow members. He is ruthless and when it comes to fighting the government machinery. He is quite ruthless, he is cruel when it comes to teaching a lesson to anyone who betrays him. He has so many sides. He is like a big brother, he is a leader, he is philosopher but when it comes to teaching a lesson to the government machine he is quite, quite ruthless.
Was he a difficult character to play?
He was a very difficult character play. Also in this film I have tried speaking in a dialect, which is completely unheard of in our Hindi film audience. It is the Chhattisgarhi dialect. It is going to be quite an experience for the audience and it was a great experience for me while shooting the film.
What sort of preparation did you go through to get into your character?
You know when you first start studying the Marxism in college you start believing in these philosophies – you feel that justice should be done for the poor. You have a very fragile mind at that time and you are still experiencing and exploring the world. Most of the students in India when they reach college they somehow get to experience this philosophy, you sit with teachers and some of those teachers some are inclined towards Marxism. The same experience happened to me. I studied in one of the best North cities in India – Delhi. Delhi is a very, very politically active city and everybody has some philosophy going on for them. I used to hang around with people who all were very aggressive about their belief and their faith in Marxism. So for me, I just had to get into my memory and switch on that button and everything was there right in front of my eyes.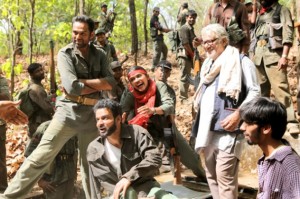 It must have been a real experience to get into that character and play him.
It was, it was. Especially shooting in the terrain where we shot the film was quite challenging. Carrying the gun around all the time, having a beard, the challenging terrain and the costumes were not conducive to the weather we were shooting in and in the extreme heat in the Jungle. Yes, it was a difficult shoot but enjoyable at the same time because like-minded people were there. We used to have fun in-between shots too.
Tell us about working with the cast.
It was the usual fun shooting with all the actors. You know you get to see so many actors coming together from so many backgrounds you really just enjoy the whole experience.
Abhay Deolis a very genuine guy. He is somebody who is very strict. He is somebody who is very honest in his opinion. He is somebody who is very into his work and what he is doing at that time. Abhay and I had long chats with each other because my room was just next to his in that house in the middle of the jungle. We had great fun having wine just chatting and putting each down.
Arjun Rampal is somebody I have known since Raajneeti. We bond very well whenever we meet up.
Anjali Patil is a new girl coming from National School of Drama she comes from theater, she is quite intense but also very fidgety very nervous in the whole set up of shooting the film.
Esha Gupta – she is experiencing a superhit in her first film so she was jumping all the time
This is your second darker character after Gangs of Wasseypur. Do you have a hard time coming out of the darker characters?
As somebody said, every character that Manoj Bajpayee does they may leave bruises in his brain. It happens. Not matter how much I try to be out of it, since the preparation is so intense and extensive they are going to have some impact in my mind some way or the other. However, now I feel much easier than earlier. I feel that as soon as I finish my day, as soon as I am out of the shoot for the film, the moment I leave the set I am again in the sync. That is what I feel, but somewhere I feel that each and every character that one plays it makes you a little wonky (Laughs). A little moodier so I think my moodiness comes from being an actor.
What have you learned about acting over your career?
I have just learned to be and that is it. To be. To be is the best thing. The less your craft shows on the screen the better it is actually. This is what I have learned over the years, but that doesn't happen overnight. It is easier said than done. It only happens when you start being comfortable with each other, start coming to terms with who you are not only as an actor but also as a person that makes you comfortable with everything that you experience in life.
What are audiences going to take away with them when they see the film?
Not only is it a very engrossing, gripping and emotional story, it explains about the Naxal movement. Because you know most of the people in the cities either they haven't heard about it or they don't know anything about it or they don't have a clear picture about it. This film will not only entertain and give out a great story it will also creates an awareness about the whole movement.
Chakravyuh is in theaters now! Be sure to check out our interviews with Abhay Deol, Arjun Rampal and director Prakash Jha, as well as our cool reports on Chakravyuh at the BFI London Film Festival. Stay tuned for our review!