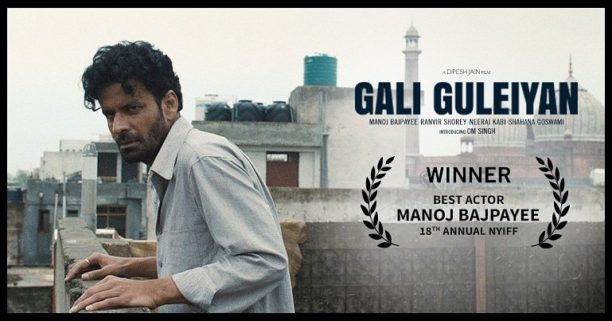 Manoj Bajpayee has always stood out for his challenging choice of roles. From movies like 'Satya', 'Pinjar' and 'Gangs of Wasseypur' to his recent 'Aligarh', his performances have remarkably raised the bar of acting in the industry. The actor has now bagged the award for best actor at the prestigious New York Indian Film Festival for his Hindi psychological drama – Gali Guleiyan. As always the actor went deep into character, so much so that he is once again almost unrecognizable.
Commenting on the award, the actor said, "When we didn't get an award for Aligarh (2016), Hansal (Mehta, film-maker) personally was very disappointed as Aligarh was a special film for both of us. NYIFF is a very prestigious award as Indian films are selected with great care and curation. This time, I'm happy that I got this award for a film which has been a difficult journey, a film that taught me the craft of acting which improved me as an actor as it threw a lot of challenges my way. I'm also happy for Dipesh Jain (director) whose hard work has paid off. It's amazing to know that everyone acknowledged our film and my part in the film as an actor. It gives me immense pleasure that it has been received well by audiences around the globe."
Here's wishing Manoj Bajpayee all the luck and success!
Gali Guleiyan, is a Hindi psychological drama about a man trapped within the walls and alleys of Old Delhi and his own mind, who attempts to break free to find a human connection. The main protagonist is played by the extremely talented Manoj Bajpayee ably supported by an ensemble cast of actors par excellence – Ranvir Shorey, Neeraj Kabi and Shahana Goswami along with debutant child actor Om Singh. Shot entirely on locations, the film is directed by Los Angeles-based debutant filmmaker and winner of Director Guild of America Award, Dipesh Jain.