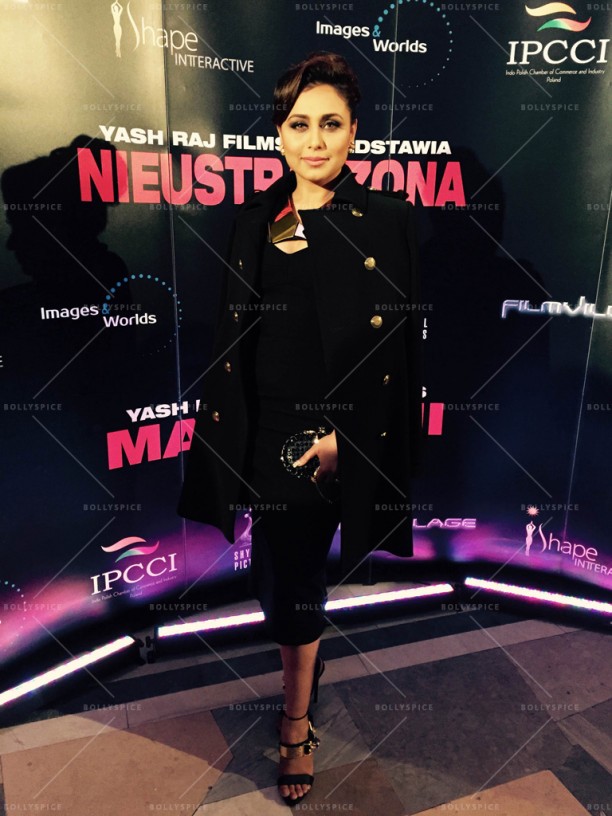 Yash Raj Films' Mardaani premiered in Poland at Warsaw's Kino Muranow theatre, one of the oldest art house theatres in the country, on January 28th. Rani Mukerji, who arrived for a full day of extensive press followed by the premiere, left winning over the hearts of the press and fans alike.
The film directed by Pradeep Sarkar was critically acclaimed and loved by audiences when it released in Indian theatres last year, with many calling Mardaani Rani's career-best performance as senior Inspector (crime branch) Shivani Shivaji Roy.
The film's premiere in Poland is a trendsetting event – it makes Rani Mukerji the first Indian actor to visit the country to premiere a Hindi film. Mardaani goes on a theatrical release from the 5th of February.
The film received a standing ovation from the audience and Rani Mukerji was congratulated for her exceptional performance and for being a part of such a relevant and sensitive film. What was really special was the presence of the extremely reticent Polish DoP, Artur Zurawski, who had worked on the film and finally watched it with his family at the premiere. Championing the war against the evil of society in the form of child trafficking, Rani Mukerji shared her anguish of learning so much during her research of what goes on in this dark and dangerous world and her preparation for yet another performance that was such a departure for her as an actor.
It's all the more significant that Mardaani, a film that raises a voice and packs a punch against child trafficking, is releasing in Poland as the European country is notorious for having a very high rate of crime against children. From kidnapping to trafficking to prostitution rackets, Polish cities are home to some of the worst crime records like many other places in the world.
During the Q&A after the screening, the audience put some very interesting and varied questions to both the actress and the DoP, but there were some who simply wanted to say "Thank You" for making a brave film.
Rani Mukerji, who is currently still in Poland said, "It was a very special day as Mardaani released in Poland today. The response to the film by the Polish people made the evening even more special and it reiterates the fact that a good film finds an audience irrespective of the language in any part of the world as art doesn't have borders or barriers. I will cherish forever the love and adulation I received today from Poland."