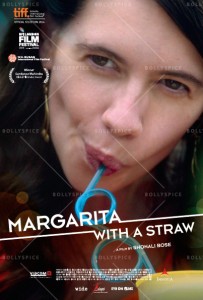 One would have thought that in a country such as India where love is worshipped through poetry, art and of course Bollywood, there would be no restrictions. Doesn't India of all places know that love doesn't have any boundaries and restrictions?!
However, prejudice is a poisonous thing. Section 377, the reinforced law banning homosexuality in India reflects the long way that Indian attitudes still have to go.
Shattering the shame surrounding sexuality and discrimination is Shonali Bose' Margarita with a Straw that is now to release nationally in India on the 17th of April 2015.
Laila (Kalki Koechlin) is the star of Margarita with a Straw. She has cerebral palsy, is brave enough to explore sexuality and even braver to love. Bisexual and unashamed, Laila sets the message of loving and accepting oneself – a tremendous message to the Indian government and a much needed role model for persons trying to completely be who they are.
Bose' production is a sensitive film portraying love and the beauty of being human. And what is the beauty of being human?
The complexity.
The pain.
The joys.
The courage.
The beauty of uniquely being oneself.
Margarita with a Straw releasing in nationally in India is a bright glimmer of hope for persons to be accepted for whom they are, rather than be made to feel dirty and ashamed for not "fitting in".
Who made the rules anyway?
Break the mould. Be yourself.