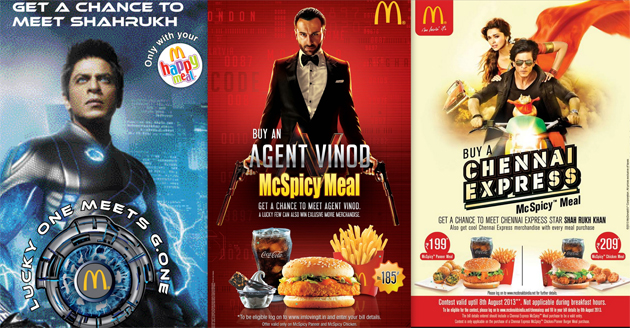 When you hear McDonalds, all you can say is I'm lovin' it! It is the perfect place to go to with your friends and family and enjoy a meal together. The idea is to get together with loved ones and share some wonderful moments of fun. The same goes with movies as well…Films give us the opportunity to revive and de-stress with people we love. They have the power to initiate a discussion anytime and anywhere!
What happens when a Brand like McDonalds associates itself with movies?
The idea gets thumbs up automatically and as a result we see co-branded associations in the form of Ra.One Happy Meal, Agent Vinod McSpicy Meal and Chennai Express McSpicy Meal selling off the shelves!
Bottomline Media Pvt Ltd has been very instrumental in forging the relationship between Bollywood Films and McDonald's Meals over the years and has thus established itself as the go to company for executing innovative brand integrations with an array of films. Tanaaz Bhatia, MD, Bottomline Media, shares that, "We are really excited to be associated with McDonlad's for the third time in a row! After successful integrations with Ra.One, Agent Vinod and Chennai Express, we are looking forward to have McDonald's on board for many such associations in the long run."
In addition to that, Tazaaz, the Bollywood Meal maker, and her team at Bottomline Media have successfully partnered with McDonald's not only to ideate the co-branded meal but also manage the meet and greet event with the stars of the film that followed.
In a country like India where stars are worshipped, people will surely have only one thing to say for ideas like these, "I am definitely lovin' it!"