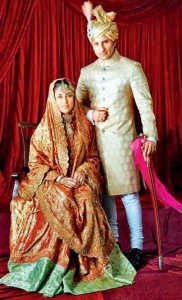 Recently, we had the Nawab of Pataudi Saif Ali Khan talk about life after marriage and more, so we could not wait to know what the new Begum Kareena Kapoor had to say about all of it as well. We asked her if she felt the same way as Saif did regarding the speculations about their marriage finally coming to an end, and she said, "I was openly in a live-in relationship with Saif for 5 and a half years before we got married. I have never hidden boyfriends publicly like many other actors and I can say that I have tried and tested live-relationships by now. I am a modern woman who does what she believes in and I am glad I can live up to that. What more, I can endorse live-in relations for the modern world," she laughed.
She also said that Saif always talks about how you should not try to be traditional if you are a modern person and so she does not pretend to be who she is not for the society's sake. "It was not the gossip that made me take this step; it was for my loved ones and fans. The marriage stamp was important for my family and friends and even my fans, and yes, now there is no more frenzy about us as the plot i-e wedding has been done," she grinned.
The Bollywood industry has always been known for being wary of the 'Mrs' tag and is Bebo prepared to tackle that? She said it totally depends on the way you handle it. "Films are not me, but a part of me. My job should have nothing to do with my relationship status or my personal life. If I am pretty and fit and I can act, irrespective of my age or marriage, why wouldn't filmmakers cast me," she pointed out. According to her, is the industry ready for breaking the stereotype about a married actress? She said that if they are not, it is too bad for them because it clearly shows how the society just talks about understanding modern values but actually lives in the era that passed away. "I chose to marry at 32 instead of 36, at an age where I am at the peak of my career and not the end. For me, who you are married to also eventually matters. Saif is a modern man and he never puts down any conditions for me related to my choice of work or expects me to compromise, which is a really good thing. If the attitude against my marriage still persists then I do not know if I can do anything about it. I am here to do my job, not to change the industry," she shrugged.
Talaash will be Kareena's first film to hit the theatres post marriage, so what is her reaction to it? Kareena said that she is keen to see the response to her role in the film as it is an interesting role, but at the same time she does not believe in going overboard with the promotion of the film. "Nowadays, publicizing a movie has become like standing on a rooftop and screaming your lungs out telling people to come and watch your movie. I do not think marketing your film like that is the only way to attract the audience. If Dabangg 2 is good, people will watch it. I am also excited about playing a journalist in Prakash Jha's next Satyagraha, although I will not be questioning someone's personal life," she winked.
We wish you good luck for Talaash, Kareena. And of course, lots of good luck for your married life!