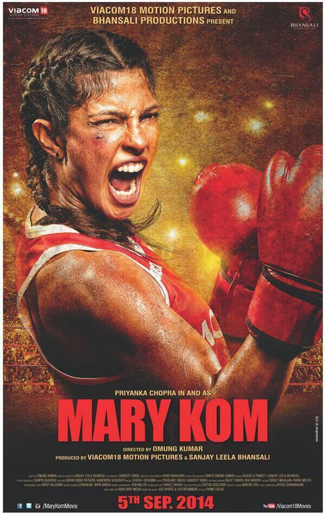 Umang Kumar's maiden film, Mary Kom, follows the life and times of the Indian boxer Mary Kom, five time world amateur boxing champion and the only female boxer to have won a medal in each one of the six championships. The biopic is produced by Sanjay Leela Bansali (Ram Leela) in conjunction with Viacom 18 Motion Pictures and features Priyanka Chopra (Barfi, Fashion and Gunday) in and as Kom.
Newcomer Sashi Suman has composed the 7-track soundtrack while lyrics have been penned by Prasant Ignole and Sandeep Singh. Vocal talents featured in the soundtrack are that of Arjit Singh, Vishal Dadlani, Mohit Chauhan, Sunidhi Chauhan and Priyanka Chopra.
Ziddi Dil is a solid opener to the soundtrack with a passionately aggressive rendition by Dadlani. Suman's upbeat composition and inspiring lyrics complete the round up.
Arjit Singh's romantic Sukoon Mila has a haunting melody at its core and is easy on the ears. Arjit has been heard in this avatar time and time again of late, but there's something about his soulful rendition that makes one hardly tire of his vocals. It is a beautifully composed track, well written and immediately likeable.
Adhure, is easily a (if not another) Sunidhi Chauhan masterpiece. She encapsulates the sweeping melody and melancholy lyrics with effortlessly and delivers a heartfelt performance. Suman's light and easy composition places great emphasis her vocals and she does not disappoint.
Mohit Chauhan's Teri Baari, crudely put, is a derivative of Ziddi Dil. While the composition, lyrics and vocals are strictly okay, the singular enthusiasms of its predecessor is arguably lacking.
Saudebaazi is in the same line as Sukoon Mila, albeit more playful and upbeat. It is a romantic track aptly sung by Arjit. It is of a sweet disposition, easy listening and very likeable.
Salaam India sees Dadlani and Salim Merchant behind the mike of this an energetic patriotic number. Composed by another Indian Idol finalist, Shivam Pathak, Salaam India excels in terms of vocal talent but falls to mediocrity in terms of composition as it features very little innovation. However, the fantastic vocal duo of Dadlani and Merchant makes up for it to a large extent.
Priyanka Chopra, who has been making waves with her American record-deal, lends her vocals for Charo. Chopra is deeply impressive and commands this lori with an insightful rendition and easy confidence. Those pop tracks did not do her vocals justice. Here's hoping we hear a lot more of such nuanced tracks from her in the future.
Mary Kom is not your average Bollywood musical yet commands a soundtrack that aptly narrates the inspiring real life journey of Kom. Sashi Suman definitely captures the different phases of Kom's life the biopic aims to chronicle but arguably needed to exude a lot more passion, aggression and all round emotional depth. The composition and to an extent the lyrics simply needed to be a bit more impactful. That being said, it is a great effort on Suman's part. It is definitely an impressive debut that makes one look forward to more from him in the recent future. Adhure, Chaoro and Sukoon Mila are easily the better tracks of the album, with the remainder being close seconds, led by Ziddi Dil. In summary, the soundtrack could have packed more of a punch but just passes muster all the same.