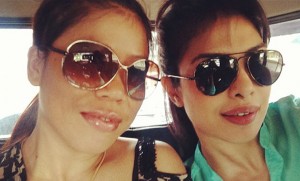 Bollywood actress Priyanka Chopra will play the role of Mary Kom in the forthcoming biopic about the five-time world boxing champion. Far from being just another role, the actress says to relate to Kom's story. As she told the Hindustan Times, "her story is same as that of mine. I too struggled when I came in the industry and cried alone. It is basically the story of every girl, who has a dream".
The film, directed by Omung Kumar and produced by Sanjay Leela Bhansali, tells the story of Mary Kom, the daughter of a landless farmer in Manipur, and how she became a legendary boxer. Barfi's actress also adds that it is the first time that the story of the female sportswoman is told through the medium of films in India. "What fascinates me about her is that I wanted to tell the story of real Mary."
Chopra also believes that this biopic will be different. "Most of the biopics are of persons who are either no more or seniors. But Mary is 32 years old and an international icon. It's a very difficult film. I want to show her personality in the film," she said.
Films centred on female characters are not very common Bollywood nowadays, but in the last few years some of them have reached the screens, such as Sridevi's comeback English Vinglish or Chopra's 7 Khoon Maaf. The actress, who is enjoying a great professional moment after the success of her latest film Krrish 3, will undoubtedly help to promote Mary Kom's biopic.
The film is scheduled to be released next year.