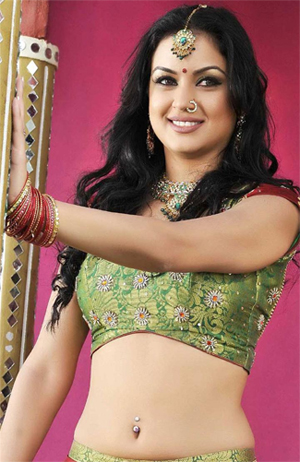 Now this piece of information totally caught us unaware. Maryam Zakaria, known best for her 'Nagin' act in Bajatey Raho, is now happily married. This isn't all as she tied the knot more than a couple of years back. Wait, there is more. She is now also expecting a baby and the good news is expected to be delivered on Valentine's Day no less!
"Yes, Maryam has been married to choreographer Arvind Thakur since early 2012. She kept mum about it since this was exactly the time when her career in Bollywood was looking up. Her item number (Dil Mera Muft Ka) and cameo in Saif Ali Khan-Kareena Kapoor's Agent Vinod had found good attention while Pritam Pyaare in Akshay Kumar's Rowdy Rathore had turned out to be a very huge hit. She was also doing a few South films then and it only made sense to be quiet on the marriage front," informs our source.
In fact post marriage, career of Maryam – who is of Swedish-Iranian origin – only soared, what with Nagin turning out to be a chartbuster and her first major acting assignment in adult comedy Grand Masti resulting into a 100 crore success.
"She has made a couple of appearances in South films since then but has been on a mini-break of sorts," the source adds, "She is happy to be on a family way and the kid is now perfectly time to be expected on 14th February next year. Just like any other mom-to-be, she is beaming with excitement and pride. She has an unmistakable glow on her face and is heard telling friends how it is such a wonderful feeling to be a mom. She is totally enjoying her motherhood phase."
Meanwhile Arvind Thakur, who had incidentally choreographed her in Nagin and is also the man behind Bezubaan (ABCD – Any Body Can Dance), is doing everything to make the environment around his wife as comfortable as it gets.
Though Maryam was unavailable for comments, a friend of her confirmed the developments. Before hanging up, she added, "This is just a short break for Maryam. She would soon be back with movies and songs."