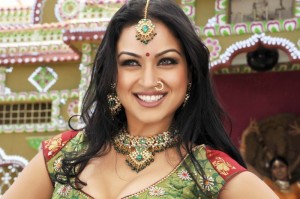 Sweden-based Iranian actress Maryam Zakaria is all set to sizzle on-screen in an item number in Rowdy Rathore starring Akshay Kumar and Sonakshi Sinha, after playing a supporting role in Agent Vinod.
"Today, big stars are also doing item numbers. I am an actress, not an item song dancer," she says flatly.
It was Maryam's child­hood dream to work in Bollywood. Hindi feature films fascinated her fami­ly, as it was with many other Iranian families.
"Since the age of two, I have been watching Hindi films, and been in love with them. That's why I came to India in 2009," she says.
Maryam acted in Telugu films such as 100% Love and Madatha Kaaja before venturing into Bollywood. She also did an item num­ber for Sadda Adda, but that was after she had completed shooting for Agent Vinod.
"It feels great to see my dream come true. I feel so good when I see my hard work paying off," she laughs.
In Sweden, Maryam was a professional dancer, and she runs the Indsk Dance School there. "It is the first school to teach Bollywood dance in Sweden. I worked as a choreogra­pher and did stage shows in Europe before I came to India. I also did a cou­ple of music videos for Iranian singer Saeed Shayesteh," says Maryam, who has even taken lessons in Kuchipudi for two years.
UTV Motion Pictures will release Rowdy Rathore in UK cinemas on 1st June 2012.