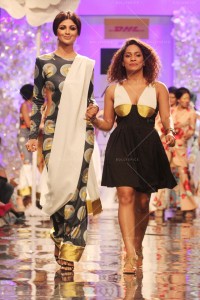 This winter/festive season, Masaba Gupta opens the show with her collection 'Wandress'.
Having made her last presence in Lakme fashion Week for the Summer Resort 2013, Masaba Gupta hit the ramp with a line of clean bodycon silhouettes with exaggerated oversized florals that set the bar high for the fashion week ahead.
Known for her eponymous label 'Masaba', the silhouettes are simple, no fuss and yet high cut fashion forward with all the elements to be made into a commercially viable line.
The brand focuses on being artistically positioned, offering the Indian consumer fusion wear that is edgy, yet rooted to its strong heritage. The colors are vibrant with patchwork playing a predominant role in most of the collection.
The USP of the brand is its fierce, bold and traditionally rooted ensembles. Moreover the mélange of colors and prints, functional saree drapes and tucks changed the dynamic of high fashion on the ramp.
Shilpa Shetty Kundra looked stunning in her custom Masaba ensemble. She stated, "I was elated to walk the ramp for Masaba as her showstopper. Her new collection aptly called "Wardress" is inspired by Roman Payne's poetry with emphasis on florals. The clothes have a vintage look and for the first time Masaba has put together a muted palette. At a young age Masaba has achieved great success and she truly deserves it. She is a trendsetter and I can't wait for everyone to see her new collection. Wishing her the very best"
Masaba Gupta expressed, "I am very excited to open Lakme Fashion Week. I am thankful to IMG Reliance and DHL, our sponsor. Shilpa Shetty whose style is impeccable was my showstopper and I am honored to have someone of her caliber come out and support my work.
Inspired by Roman Payne's poetry, the Wardress is a reflection of the free- spirited, new age woman.Centred around the character Saskia in his poetry, the collection is a strong, sensual, lyrical and perfumed with romance. It encompasses figure hugging silhouettes and influences from the 60's. Fabrics such as scuba, satin and crepe illustrate a laid back attitude. The prints range from geometric to floral along with techniques such as foiling and laser cutting. The display and styling mirror the beauty of a gypsy woman suffering from wanderlust.