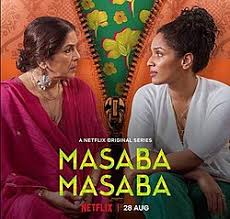 Masaba Masaba (Netflix 6 episodes)
Starring Masaba Gupta, Neena Gupta
Directed by Sonam Nair
Promise not to take it too seriously, and Masaba Masaba, the 6-part Netflix series where Masaba and Neena Gupta play their real-life roles of daughter and mother, promises to be loads of fun.
Firstly the writing is clearly on a roll. The lines flow like champagne at one of those soirees that the characters in this series, all 237 of them, attend regularly. The people who populate Masaba's elitish life are shamelessly uppercrust Bollywood with serious existential problems like, what do I wear for the evening's party that I haven't worn before?
Okay, for Masaba Gupta (played by Masaba Gupta) it gets a little more serious when her husband (Satyadeep Mishra, as usual under-used) announces that he wants a divorce. All hell doesn't break loose. There is so much storm before the calm in this series where everyone is running around going nowhere.
I specially liked the first four episodes where there is an arresting build-up of characters and plot.
The big surprise is that Masaba can actually act, maybe not as well as her mother. But for her debut Masaba does remarkably well in keeping the tonal inflexions in her character's stumbling graph in place. Masaba Gupta negotiates her way through the sticky mess she creates, and that includes taking her best friend Gia (Rytasha Rathore) for granted, with fabulous flair.
The tone of storytelling is lush and irreverent. I really liked the idea of bringing on a cute little junior Masaba who drops into the grownup Masaba's life whenever she feels like…we all know how whimsical kids can be.
Except one messy episode on aboard a ship when Masaba's fashion show goes completely wrong, Masaba Masaba is fun to watch all the way. There are delightful cameo appearances by Pooja Bedi, Kiara Advani and Farah Khan. Neil Bhoopalam stands out among the male cast. But the showstoppers are the two Gupta ladies whooping it up as only a mother and daughter can when they are completely non-judgmental about one another's failings.
Keep an open mind and heart, sit down with your bowl of popcorn and have fun with Gupta Gupta.