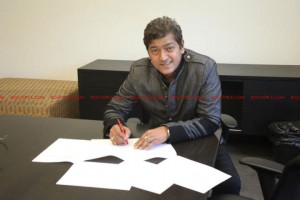 Hollywood based Matriarch Multimedia Group is making headlines for their recent deals in its film and television divisions and now the signing of an International superstar positions the company to become a major player in the industry.
Aadesh Shrivastava is a popular Indian music director and he now joins the Matriarch family. One of the most popular musical figures in his native India, Aadesh's first big break came with the 1993 film Kanyadaan. His greatest achievement was that he had Lata Mangeshkar, (one of the most popular playback singers in the world) to sing for his very first song.
Although he has experienced success in sporadic burst, he has composed music for more than 100 Hindi films. His success is not limited to India, on the international front Shrivastava has collaborated with artists such as Akon, Julia Fordham and Wyclef Jean. Together with Akon, he has launched an India-wide talent search on the website hitlab.com which uses music analysis technology to predict the hit potential of new songs. Other international artists he has collaborated with include Dominic Miller, Shakira, and T-Pain.
Matriarch CEO Cassandra Cooper considers the signing of Aadesh a major milestone for Matriarch. "We chose Aadesh because he is the Michael Jackson of India, he has the diversity to make a major impact in the US marketplace and we are going to be at the forefront of that movement" stated Ms. Cooper. "This pairing will take Matriarch and some of it's more recognizable faces to Bollywood for some collaborations on high profile film & music projects there, in addition, this recent deal will expand our brand further in the UAE and India. We are globalizing our brand one venture at a time. Be on the look-out for Aadesh's new single 'She wants some fun' coming later this summer" In addition to the signing of Aadesh, Matriarch will also launch several reality shows beginning with 'A Taste of Hunney' starring Patrice Fisher, and the launch of the Matriarch Network on the Dish Network system in the third quarter of 2012.