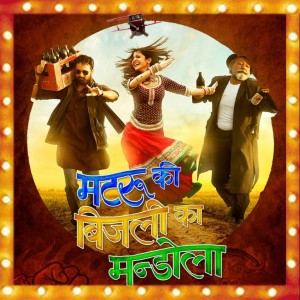 It is not unusual to have a Bollywood film inspired by a book.
A few examples are 3 Idiots, which was adapted from Chetan Bhagat's Five Point Someone, 7 Khoon Maaf, by Ruskin Bond's short story Susanne's Seven Husbands and Lootera by O. Henry's The Last Leaf and the upcoming 2 States which again is based on Bhagat book.
It is still not unusual for Bollywood to transform stage productions onto the silver screen – for instance the many Shakespeare adaptations such as Omkara, Ram Leela and Maqbool.
However, there is now a Bollywood film that is to be adapted into a theatrical production.
Vishal Bhardwaj, who is famously inspired by Shakespearian tragedies, has been approached by Paris' Chatelet Theatre to transform the 2013 film Matru Ki Bijlee Ka Mandola on stage.
Does this mean that we will see lead actors Imran Khan or Anushka Sharma on stage? Well,we don't know but Pankaj Kapur, who also played a lead as drunkard Harry, is so far being anticipated to re-enact his character on stage.
With quirky characters, drama, intensity and some psychedelic comic relief, MKBKM not only has potent Shakespearian ingredients, but is fit for stage in its own right.
Although the film did not do so well on the silver screen, these aspects are sure to set the stage alight.
The production is to be in Hindi whilst English subtitles are flashed on a screen.
It will definitely be interesting to see how the recurring pink cow from MKBKM is adapted on stage!