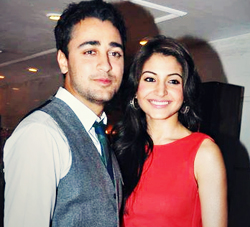 We have some inside scoop just for you! The title for Vishal Bhardwaj's dark comedy Matru Ki Bijlee Ka Mandola is actually the name of three of the main characters ala Amar Akbar Anthony. So Matru is Imran Khan, Bijlee is Anushka Sharma and Mandola is Pankaj Kapoor! Cool huh?
The dark comedy, which also stars Shabana Azmi, has almost finished filming with just about 10 days to go. Talking about the film, Anushka said earlier, "It is not a rustic rom-com as is being speculated. It's pretty urban and is a riot. It'll have the audience clapping their hands and falling off their chairs laughing."
Imran has nothing but praise for the director, "Vishal is a very hard working director. As a creative person he is someone who works very, very hard. At the same time, he gives a lot of freedom to other creative people who are working with him. Be it set designer, cinematographer or actors like me, he always gives you a lot of freedom. It's like, I trust you, do something good."
Adding, "So far, I am very happy with the way the film has come out. I had an incredible time working with Vishal. This is the first time I am working with such a seasoned and experienced director and now I understand how he makes such good films."
This is the first time Anushka and Imran will be seen together on screen. About his co-star he said, "She is a very talented actress. She is spontaneous on screen."
Produced by Vishal Bhardwaj Productions and Fox Star Studio, Matru Ki Bijlee Ka Mandola is slated to release by the end of this year.