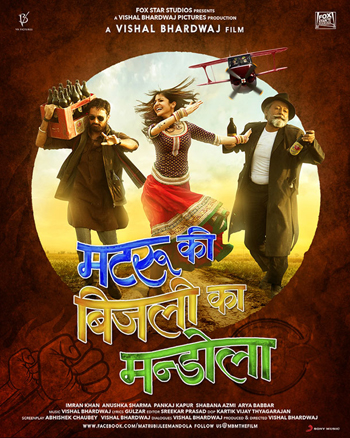 Vishal Bhardwaj started out as an unusually rooted film maker. He was imaginative, he was experimental, he was original (yes, even when adapting Shakespeare). Vishal Bhardwaj of Matru Ki Bijlee Ka Mandola (MKBKM) is still experimental and original but not rooted anymore. He is quirky and increasingly whimsical. The rootedness rears its head now and then but clashes badly with the quirks and the end result is part likeable and part absurd.
Mandola village is lorded over by an eccentric industrialist Harry Mandola (Pankaj Kapur). When not drinking himself silly, he dreams of usurping the villagers' land and building an industrialist town there. Helping him achieve this dream is the scheming politician Deviji (Shabana Azmi) who wants her son Baadal (Arya Babbar) to get married to Mandola's only daughter Bijlee (Anushka Sharma). Mandola's Man Friday Matru (Imran Khan) seems like the perfect servant but has a hidden agenda of his own. MKBKM is basically a simple story about the common man vs the big bad system. What sets it apart is how it is told – slowly, whimsically, crazily.
Matru Ki Bijlee Ka Mandola is as frustrating as it is enjoyable. It is downright banal in places but then springs such wonderful scenes and hilarious cuss-words-filled-dialogues that it is difficult to not keep smiling. The tone of the film keeps varying so much that it never lets one settle down to one mood. Unseasonal rains bringing misery to the helpless farmers and the absurd UFO sighting – both belong in different films. Bhardwaj tries to merge the pink buffalo with Special Economic Zone issues seamlessly but the satire just doesn't work.
Unusually for a Vishal Bhardwaj film, the characterisation too is not strong. While Deviji is a political caricature, Harry Mandola is plain ambiguous. While the drunk Mandola is kind and compassionate, the sober man is a cruel and greedy tyrant. One never gets clarity on who exactly is the real Mandola and what drives him – love or ambition. Bijlee too comes across as strangely directionless despite being strong minded and well educated.
And yet the film works because it keeps throwing these odd little surprises that are so delightful that they don't let one give up on it. The little touches like a eunuch being treated as just another person in the village, Mao-Lenin being used in a sentence originally worded as Maa-Bahen, the Macbeth reference.
A Vishal Bhardwaj film promises two things – good music and good performances – and MKBKM lives up to both. Gulzar's lyrics weave their magic and Bhardwaj's music provides ample support. Though Imran and Anushka are the token lead pair, the film truly belongs to Pankaj Kapur and Shabana Azmi. Despite an ambiguous role, Mr. Kapur owns every scene he features in and is a delight to watch. Shabana Azmi takes a caricature and raises the character to another level with her sheer brilliance. Anushka plays the same role here that she has played in all her films till now, and to her credit she manages to not look repetitive. Imran Khan is miscast as a Haryanvi but his sincerity and good-boy-screen-presence help him hold his own among the thespians. Arya Babbar is the surprise package with his perfect comic timing.
Matru Ki Bijlee Ka Mandola is a noble attempt, though the treatment is not everybody's cup of tea. The film is quirky in both a good and bad way. At times absurd, at times too clever for its own good. Watch it for its originality if nothing else.