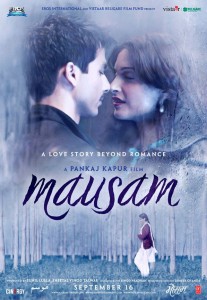 The epic romance Mausam, directed by Pankaj Kapur and starring Shahid Kapoor and Sonam Kapoor had an outstanding opening weekend at the box office! Eros International has announced that the film had a gross opening weekend collection of Rs. 41 crores worldwide. Eros International and Vistaar Religare released the much anticipated film in cinemas across the globe on 23rd September 2011.
Mausam released across 2,000 plus screens worldwide with a combination of prints and digital screens. Since its release, the film has grossed Rs.41 crores worldwide, with Rs.33.5 crore in India (Net Collection: Rs. 23.5 crore) and Rs.7.5 crore overseas in its opening weekend. Mausam has performed so well at the box office it is Shahid Kapoor's biggest opener so far.
Mausam (Seasons of Love) is a story of timeless love in the face of political hostilities and religious conflict, between a proud Punjabi Air Force Officer (Shahid Kapur) and an innocent Kashmiri refugee (Sonam Kapoor). Set against a landscape that transcends decades and spans continents, Mausam is a classic journey that transports one into a world of indestructible bonds of love enveloped by the roulette of destiny.