Ever since the first buzz of Mausam hit the news, it fast became one of the most-awaited films of 2011. Mausam brings with it two very promising firsts: A first-time director in the critically acclaimed actor Pankaj Kapur and a fresh new jodi in Kapur's son Shahid Kapoor and star-daughter Sonam Kapoor. The intrigue and anticipation surrounding the film increased with the thought of the father and son duo jointly working on the same project for the first time. Over the past few months prior to release the movie has been caught up in a number of controversies. However, now that Mausam has finally hit the theaters, does it prove to be worth the wait?
Mausam's story has been branded as and is a story about love that spans across a number of continents, years and, perhaps most importantly, through different seasons. Starting off in 1992, the film begins with Harry's (Shahid) story. Harry is a young village boy residing in Mallukot and has a fascination with speed and trains. He is living his youth with his accompanying friends. When a neighbour's (Supriya Pathak) niece, Aayat (Sonam) is forced to come and stay with her aunt from Kashmir as a matter of safety, Harry falls in love at first sight. The two share some sweet and heart-felt moments with one another before Aayat and her family are forced to move to Mumbai. Harry is left heartbroken but he is also seen to receive a letter about his entry into the army. What follows is a story whereby the two lovers meet at various intervals every few years in different places and under different circumstances.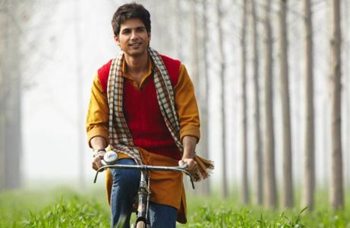 It would be wrong to say that Mausam is your average, run-of-the-mill Bollywood love story. It is very much a movie which stands for everything Bollywood signifies about, minus the taaza masala. The first half of the movie is centred on the life of Harry and Aayat and their Mallukot activities, including the wedding of Harry's sister and also the visit of Aayat's refugee father. It can be said that this part of the film is probably the most watchable and this is because of the portrayal of innocence, mischief and sweet obsession that the two protagonists' share with one another.
You're reminded of a love story which could very easily have fit perfectly in the years it was set in and proved to be a huge success at the box office. However, hold your horses. The second half of the movie is a huge disappointment and doesn't follow on as promisingly as the first half yearns for it to. Fate brings the two characters together a number of times but as each meeting happens, the plot becomes less and less realistic. Fate is thought to instigate these meetings but even fate wouldn't work its wonder that many times.
Performance-wise, Shahid Kapoor is perhaps the films sole saviour. Arguably, the actor holds the whole movie on his own shoulders. Kapoor plays the role of a Harry with such perfection that you're left feeling somewhat sad that the movie doesn't quite live up to his immensely praiseworthy rendition. Sonam Kapoor as Aayat is believable but doesn't quite seem to strike an uncritical chord. It's difficult to pinpoint the reason for this but could possibly be because this is the first time she has tackled this kind of character in this sort of movie.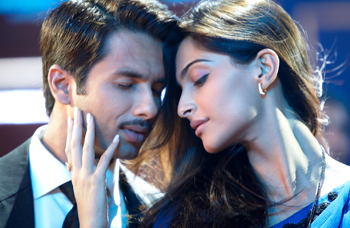 Pankaj Kapur, in his directorial debut, has given the kinds of settings and locations in Mausam which have huge significance in the "seasonal" look the movie needed. As Kapur has also written the movie, his understanding and vision seem to go a long way and this can be seen in the overall feel of the movie and the intricacies he has sought to show in each of his characters, both individually and in the relationships they have with each other. Overall, Kapur has achieved a very accomplished effort in his first movie and it is yet to be seen whether we will see this talent of his at the forefront again.
With Mausam, you are made to travel from Mallukot to Scotland and from Switzerland to Ahmedabad and you take with you Harry's and Aayat's pyaar. The biggest and most important aspect of Mausam is that the love story within should have been seen to resonate and it would have if it hadn't been complicated with the various periods the two have to spend apart. It is this and the number of times that the two come together which gets tedious about makes what should have been a simple story unnecessarily long-winded.
If, like most Bollywood fans, you love a good love story then Mausam (minus the seasons) will make you want to fall in love again. However, if what you're after is a story which you could list for years to come as one of the most touching love stories given by Indian cinema, I'm sorry to say that Mausam doesn't quite hit the spot. Although a strong and impactful love story, the movie sadly seems to get lost in its own fate.