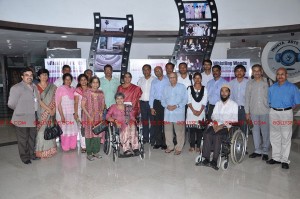 Whistling Woods International is today – internationally recognized as Asia's largest film institute. Film-making however, is not W.W.I's only agenda; in-fact the institute has always been closely involved with N.G.O's – having re-affirmed this with the recently held seminar (in WWI) which discussed the important role that media plays in partnering development in the NGO sector.
The seminar which took place on the 30th of September was addressed by eminent names such as Mr. Bobby Sista, Founder & Executive Trustee of Population First, Ms. Ketna Mehta, Founder and Cause Ambassador of the Nina Foundation, Mr. Piyush Bhatia and Ms. Preeti from India Against Corruption and Dr. Sharda, the programme director for Population First. Also present at the seminar were Meghna Ghai Puri, President, WWI and Prof. Ujjwal Chowdhury, Dean, WWI- School of Media and Communication.
Meghna Ghai Puri, in her speech proclaimed – "We have worked with NGOs since the inception of WWI. Any institution must be formed in order to provide an array of life skills to its students to fulfill social responsibilities and not mere specializations. And here at Whistling Woods International, we are giving our best to do just that! We wish to inculcate CSR values in our students so that these youth go on to build a responsible India"
One of the driving reasons behind the entire seminar was to kick start WWI's NGO internship programme that the MBA students undergo as part of their curriculum. The 2 year MBA in Media and Entertainment is the first media and communications course in the country which has designed a unique pedagogy which allows the students to undergo three internships during 2 years– an NGO internship, an industry internship and a PPO internship.
The seminar which was very lively with active participation from the students is certainly a large step towards sensitizing people towards the need for NGO's. The insight into this sector has certainly awakened us to the knowledge of how media partners communication and thus plays a key role in creating socially responsible citizens.