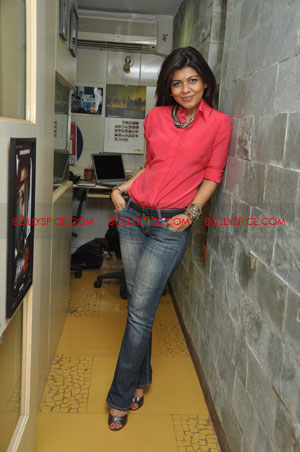 The game of film promotions in Bollywood certainly took on a new flavor in 2011. With the use of social media, product tie-ins and cool merchandise, fans are getting even more excited to see the films and of course get the movie stuff! One of the leaders behind this fresh vibe is Tanaaz Bhatia and her company Bottomline Media. Though only in the business for about two years, Tanaaz and her team have come up with some really innovative and unique promotions, events, merchandise and even games! Her company was behind the epic lead up to the release of Ra.One with major tie-ins with McDonalds(a Ra.One Happy Meal), the first Playstation game based on a Bollywood film, and even a Coca Cola bottle with Ra.One art. They continued down their creative and cool movie promotion path with the release of four puzzles and four board games for Don 2, where you can immerse yourself into the world of Don. With the motto, "Anything is Possible!" Tanaaz and Bottomline Media make sure that with each new film they work on has something you have never seen before. We talked with Tanaaz about her work for the movies, the games that everyone wants, and what it is like to work so closely with Shah Rukh Khan. Check out what she had to say in this in-depth conversation.
Tell us about your company, BottomLine Media.
My company is about two years old. With no history in Bollywood I accidentally fell upon it and then decided to start the company. I got into it because of a friend, just experimenting and one thing led to another and I guess hard work pays off, because if they like my work then one person recommended me to the other and that's how I started getting movies. I got Mr. Khan's smaller movie, Always Kabhi Kabhi, as a challenge to do because it was a new cast it was a challenge to come up with associations and I decided okay I'll do that film. There's been no looking back ever since.
What we do is basically handle stuff for movies, brands and production houses where we figure out what is needed for the brands, how we can associate with them and how can we make it as interesting and fresh as possible for the film when the movie is about to release. We have a great team and I love to do things differently. That's how we did so many fresh things with Ra.One and now with Don 2. We work a lot with Shah Rukh, have worked with his production house, worked with Excel, worked with Saif's production, worked with Kunal Kohli, and we work with Eros. We don't work with everyone, we work with a few production houses, but the ones we've worked with we love working with them and that's why we go all out. We actually create when we work with them. For example Ritesh from Excel and Shah Rukh, they tell us figure out what you want to do and then let's do it. So, it's kind of cool!
What is the philosophy you have behind these cool ideas that you come up with?
Never say never and anything is possible. As simple as that.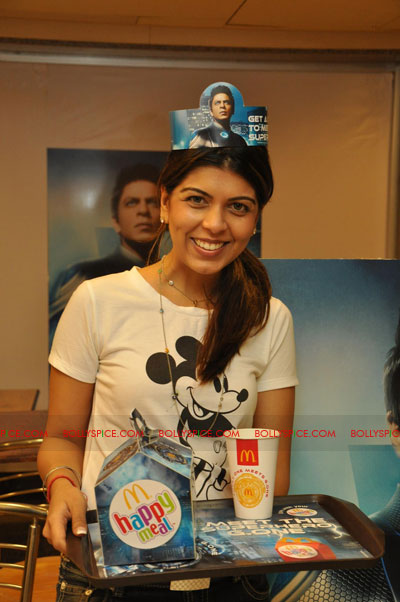 Let's talk about the promotions, starting with Ra.One; your company really did some promotions and tie-ins that have never been done before.
You know, the whole thing is I am not a typical filmi person. I don't come from this background. Although I've grown up with half my friends who are actors, directors and producers now, I've never been in that space. I've been a banker on Wall Street. I've worked on Wall Street with Goldman Sachs and Merrill Lynch. I understand numbers, but I also, on the flip side, understand how brands work. Because of my international experience I had seen and experienced a lot of what these brands do overseas. You come here and what you see now, in the case of cinema and Bollywood, is that there are new kinds of movies that have come about: you have Ra.One, with its amazing special effects and you have Don, which are creating a new cult in a way. You don't want to do the traditional stuff where it's just a very plain simple co-branded ad. It's okay, but it goes unnoticed. Whatever you do, whether for the brand, for the movie, or the actor, people need to sit up and take notice. So even when it was a small budget movie like Always Kabhi Kabhi that we did for Shah Rukh we did something different and for the first time we used the jingle of a commercial in the film. That's never been done before. Then the flip side of it is when we did Ra.One, of course we did McDonalds and I was working with an international team getting approvals and then PlayStation, which was 2-year process. Then we had the Coke bottle that came out and it was the first time it had the wrapping of a movie.
Was it difficult to get McDonalds onboard?
Yes. I had a yes, a no, a yes, a no, a yes, a no, every single day. Until the last minute I really didn't know whether it was going to happen because, you know, they never ever changed the color of the box for McDonalds Happy Meal. It's the first time in the history of McDonalds that it's done that. I mean the approval had to come from international; they even changed the tray mats because if you see the tray mat, tray mats never have the entire creative — they only have a portion of it. Believe me I was going nuts with everything associated with it. At one point we were like this is not happening but it did. It was interesting. We're now working with McDonalds to create and innovate new ideas about how we can incorporate a lot more of the Bollywood in McDonalds having done that once.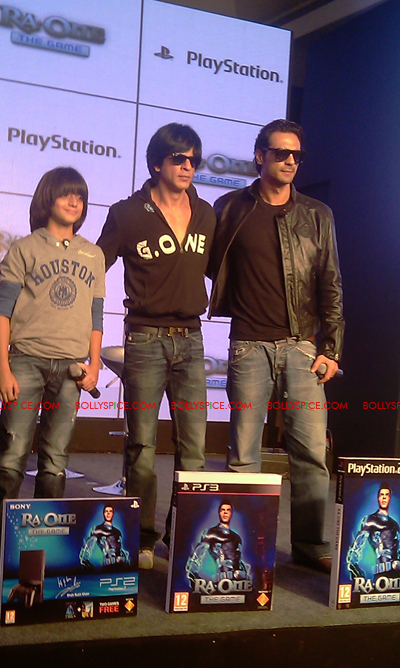 How has the audience reaction been to the promotions?
I was talking to some random people and they were telling me about how their kids are really happy about the Happy Meal said 'they made us take them again and again because they wanted to get that Happy Meal'. It's nice to know that kids were excited about it and they wanted to watch the movie more because of the Happy Meal. It feels really nice to know something like that. Even the Playstation game, the PS2 I believe sold out in the first couple of days and they had to get the next lot going. I don't know the exact numbers of how many did sell but I was asking the numbers from the Sony guy, he said 750,000 units of PS2, the console, are in the market. So that's why that's much more widely sold than the PS3 because that's more expensive.
Tell us about working with Shah Rukh Khan…
The first time was really stressful because I wanted everything to be perfect. The more and more you work with him and every time you meet him, you get to know more and more about things you've never dreamed that you'd ever know about. Working with him is fantastic because you sit with him, you tell him an idea he says, 'You know what, maybe we can add this' and I'll say oh great and it turns out to be better. If you tell him A to B he goes A to Z. He just does whatever he needs to and he does it so well. He does more than you ask him to. He is the most accommodating person, you don't even need to ask him, you just tell him this is the event and when to show up and believe me he will be there and there will be a crowd there because it's him. Believe me working with him is like a dream. You know, it's easy when people just blindly believe what you say, but with him, he questions and it's nice because you are also intellectually challenged because he will say okay why do you want to do this? Does it make sense? You know it's logic and it works out well that way.
You're working with the best of the best. It's basically working with the king. I couldn't have asked for a better movie than Ra.One. Believe me, it was Shah Rukh who said 'Let her work on the movie' and if it wasn't for him I wouldn't be here today. That is for sure.
Let's move on to the Don 2 Games.
For Don, I knew I wanted to end the year with something that would make people say that we did something different for this as well. We decided to do the board games. Never has a movie been converted into a board game in Bollywood, ever. This is games that everyone can play, because not everyone has electronics, not everybody has a Playstation, not everybody has access to a computer. These games we decided would be 1.99 bucks to 7.00 bucks, so very affordable. We got together with this Australian game company and off we went.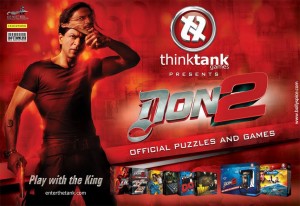 Also then we, for the first time, we're releasing a game across Facebook, on the iOS and on the Playstation 3 – on all 3 different platforms. If you see the Facebook game the graphics are fantastic, Shah Rukh and Priyanka are looking pretty damn good for a Facebook game. The way the game play is its very interesting because the way you have to add on more friends to get stronger and create even more in the world. So it's kind of cool.
When you see the game that is going to be on iPad this week, it's just about the chase. Everything is based on the narrative of the movie. So it's got a car chase, it's got everything that you see in the movie…the action scenes and it has Shah Rukh in it. You are just going to love it and it's gonna be another Shah Rukh treat for people.
Then we have the Playstation PS3 games, which are going to be downloadable and the console games, which are going to be out with the Blu-Ray.
People were really excited about the board games
They sold out the first day! At Crosswords they were really overbooked. Places are ordering 10,000 units to cover the demand. It's really, really gotten over booked, that's what we were told. We've not even got our samples to give people because they needed them for the customers.
Where do you see promotions like this going in the future?
You know, we have a whole big slate next year and it's interesting, when you are seeing that line-up, you are thinking how can we actually set a higher benchmark for ourselves? We've pretty much done everything there is this year. When I was sitting with my team I was like, "Damn! What the hell can we do next year to create our splash?" We have some things that we are gonna do and by the summer you'll be seeing it. They are different movies and its different concepts.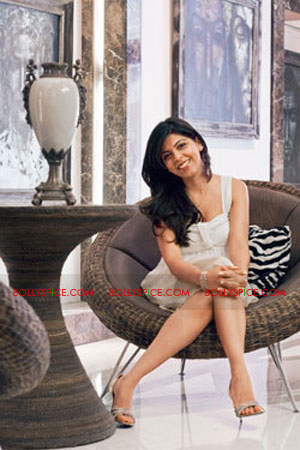 You know, it's all about keeping your eyes and ears open, seeing what's out there, whether it's Hollywood, whether it's a different vision. Everyone has an idea about how they work, because in Bollywood they have a different way of marketing, they do the city tours. In Hollywood, they do junkets. Junkets have never been done before in India, because they don't understand the concept. Every market has a different way of working, but having said that, if you combine the two it could be a success for every market. So we're looking at applying techniques and stuff that's used internationally and catering it to the Indian market. What you are going to see next year is gonna be…well, I hope that you are going to be calling me and saying 'Okay Tanaaz, now you made it to the next level'.
Can you give us some hints on some of the movies you will be working on next year?
Well, let's just say some of them are very niche. They are based on type A. It's pretty much people like you and me who watch movies and who are connected digitally on the computer or on the phone all the time or on their Blackberry, that's one thing. So everything out there is going to be digital and it's all about what creates the noise there. So that's one part. The other one is all in out making somebody like you, your maid, your parents, your kids and every single one want to watch that movie. That's what we're trying to create. So it's different in the sense that…doing it in a way that it caters to every age bracket and every category in the population.
Our next movie is a romantic movie, the Kunal Kohli movie (Starring Shahid Kapoor and Priyanka Chopra). He's all about romance you know if you've seen Faana and Hum Tum, which are two of the greatest romantic movies that he's done. This movie is again about soul mates. It's one of my personal favorite genres. I love romantic stories. I'm all about hardcore romance when it comes to it. But unfortunately I've never worked on a film like that. It's been a terrorist film, it's been an action thriller, it's been a kiddie movie, it's been a superhero movie and it's been an action flick like Don! It's gonna be fun stuff. We're looking at launching really cool things starting from next month, where I'm going to be launching a contest to get the name of the film and how we're gonna do that. That's gonna be a 6 month process. Then we have other huge films. We have just interesting stuff coming up for which we going to being doing things, which I don't know if you've ever even seen it.
When you look back at 2011, what would you say about the year?
It's been fantastic. It ended better than it started. I mean I couldn't have asked for a better way to end it than with Ra.One and then Don 2. It's just been fantastic.
2 years ago did you imagine…
No! I never in my wildest dreams thought I would be working this closely with Mr. Khan at all. Or rather working on two of the biggest films of 2011. I had no clue. I honestly had no clue what I was aiming for. I really am thankful. In the last two years, I've met so many wonderful people and as I said earlier one person has introduced me to the next and it's really random. Somebody who read one really strange tweet that I did they found me and decided to call me and say they wanted to meet us for our brand and stuff like that. It just worked out really well. My simple philosophy is nothing is impossible. Just work hard and do what you need to do and do it to the best of your abilities and anything is achievable.
We certainly cannot wait to see what they have in store for us in 2012, we are sure it will be something that we have never seen before and will take the buzz about the film to levels off the charts!