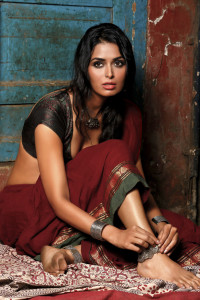 The gorgeous Meenakshi Dixit who will soon be seen playing a sex-worker in her upcoming Movie "P se PM Tak" is all set to hit the screens on 29th May 2015.
Meenakshi, who rose to fame in Tollywood with special numbers in Dookudu and Baadshah accepted the role as challenge. The film is very much diverse, portraying different aspects of a sex worker. And the actress left no stone unturned for her big debut in Bollywood.
A little birdie told us that to get her act right, Meenakshi did research for her role and even visited one of the red light area in Mumbai. The actress made it a point to interact with the locals of the red light area. She did that, so as to bring in the realistic touch to her character in the film.
And now Meenakshi is all set to give her stellar performance as a sex-worker in the movie.