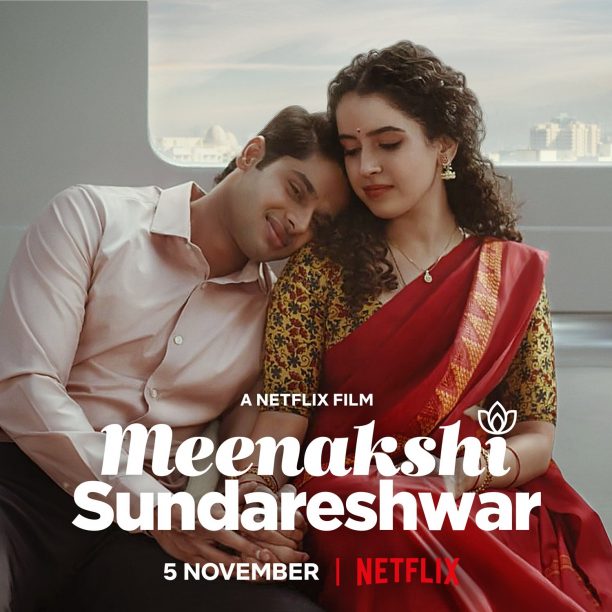 Meenakshi Sundareshwar(Netflix)
Starring Abhimanyu Dassani, Sanya Malhotra
Directed  by Vivek Soni
This could have been a lovely story of a newly-married couple groping its way through the  new experience,  finding themselves stranded in the journey and then coming back together. Initially  Meenakshi Sundareshwar reminded me of Basu Chatterjee's Piya Ka Ghar where  the problem  faced  by the newlyweds was  quite simple: privacy.
This one goes for  more. In trying to  wind its way through  the  newly weds'  adjustment  problems, the plot ties  itself up into knots. Soon we are watching a  film about a Tamilian couple from Madurai who are  incompatible  because… ummm.. she  loves Rajinikant (first day first show) and he hates  movies(they put him to sleep). Okay, too  minor a reason for marital discord? Then try this:  he  has to move to  Bengaluru  for a job leaving his new bride  behind with his  family(no ogres there, no  conflict) and he must  pretend to be single  because that's what the Bengaluru boss wants.
I am not  too sure why the boss wants  the hero to stay single. But like Jeetendra in Jeene Ki Raah, Sundareshwar(Abhimanyu Dassani) must lead a double life. Wife Meenakshi (Sanya Malhotra) drops in at his  Bengaluru  office unannounced. Some  running around  trying to hide  and lie, etc etc.
It all gets repetitive, tedious  and worse, still, uninvolving. I  started off caring  deeply for the couple. Their first  meeting where they quiz one another on their  likes and  dislikes, is vivid and vivacious.  So  is the suhaag raat sequence where Meenakshi  explains to her  clueless husband why both of them need to have  milk with haldi:  "Scootie  chalaane ke liye dono tyre mein hawa  honi chahiye."
 
Both  Abhimanyu  and  Sanya are  invested  into their characters, he more than she. Sanya, I  feel, has begun to get  repetitive in her  no-bullshit-no-kidding  roles. Here she plays  another  version of her  feisty wife's role  from Pagglait. If, God forbid, Sundareshwar were to die suddenly, Meenakshi would behave  exactly  like the wife in Paglaitt.
And why for, Rajini-God's sake, must  Meenakshi be a Rajinikanth  fanatic who  breaks into  a violent dance  in the aisles first day  first show? Sundareshwar loves his wife's  Rajini turn. I suspect he  is  a man who doesn't demand much  in life. Playing  this well-meaning but dull  husband  couldn't have been easy for Abhimanyu. The  young actors nails it. From the  walk to the  talk…this is a brilliant  impersonation of  an inexperienced  householder  on a par with Shashi Kapoor in The  Householder.
 
Come to think of  it, finally  Abhimanyu is the  only reason why this film is not a  complete  washout. Some of  the  other actors, acting as stereotypes pretending  not to be stereotypes are interesting once in a  while, though the influence of Sooraj Barjatya's Vivah is strong on  them. In  Vivah the hero's elder brother has a fetish for  newspapers. Here is  it ras-malai. Either way, you are  looking at a film which doesn't have  an appetite for too much conflict or drama. It's a breezy watch. Nothing  to sway us into submission.