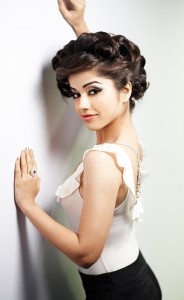 From a Coca-Cola commercial with Amir Khan to Tamil movies like Easan with an award-winning filmmaker Sasikumar, Aparna Vajpai has come a long way in a rather short time.
With Vikram Bhatt's next release Horror Story, Aparna Bajpai is making her big Bollywood debut. The lissome lass plays one of the protagonists in the film. With already Madhur Madhukar's Mumbai 125kms in her kitty, and a pivotal character in Creature, the model-turned-actor is raring to go places. Watch out for her …
Why Horror Story?
Well.. incidentally, horror is my favorite genre. I have always loved to watch horror films since my childhood. In fact after seeing Raaz I would enact the scene played by Bipasha where spirit enters her body. And obviously since The baap of Indian Horror movies was making Horror Story, and they chose me to play this character of Maggie in it, it was like icing on the cake.
How did acting happen to you?
Haha! This is quite a funny thing, as I was an all over state topper in Chandigarh and quite a studious kid. So I always thought that I would go in for academics and corporate. Somewhere along the way I developed liking towards dancing and yes I did perform at national levels as well. It's then that slowly got into modeling and gradually into acting.
When did you realize that acting is your career?
Umm as I said Dance is my first love and I always thought of my career as a versatile dancer. But as I did my first Tamil movie and it came out so well, and did another movie and another so it happened to become my career, and I now love acting too.
How was your experience with Tamil movie?
Tamil movie super director Sashi Kumar had called me for this movie after he saw me in my first ad of Coca Cola with Amir Khan and he wanted me to do this film Easan. Initially I was skeptical about doing film in unknown language but then yes I did it. I had fun while shooting and infact I did the dubbing as well. The whole movie happened during my academics; I completed the shoot and went back to Chandigarh to give my exams and certainly I got offers for another Tamil movie 'Karuppampatti' and I played double role in it.
What do feel about Vikram Bhatt as a director?
Oh my god he is like an Encyclopedia and an institution in himself. It was so awesome working under his direction, got to learn so much and in a rich quality. He is a super talented director; I mean no one can guide you throughout the film as he does. Seriously!
What kind of Character are you playing in Horror Story?
I am playing one of the lead role in the movie where my character name is Maggie who is totally fearless, tomboyish and always ready to take up for any challenge that comes her way. And the character that I am playing in this movie is quite close to my real self.
Since you did a Horror movie tell us your experience while shooting this film.
As I mentioned in real life am quite fearless and don't believe in spirits. It was the very first day of our shoot, the whole set up was all dark and spooky. Sheetal, who is playing the ghost in the movie was all ready with her makeup and attire and she came to meet me. I almost went into trauma looking at her so close in that makeup-hair and I started screaming all over. Somehow everyone managed to cool me down and after a while when I again tried looking around I happened to see Sheetal staring at me and once more I was all again in a screaming spree. It was something that I had never imagined of in my whole life!
At what age did you start with your acting career?
Haha lets not mention the age here or else I will be banned for child labour!
Was there any horror incident that you experienced while shooting?
Yes I did. I had never believed in ghosts etc but after the shoot, I have changed a bit. While shooting for horror story in the evening break between the shoot I, Karan and Nishant decided to find for spooky spots in the hotel where we were shooting and we landed up on the 7th floor which was all dark and scary. We decided to go back but the lift was stuck and mobile phones were out of network area. We somehow managed to turn on the torch light of the phones and were standing near the lift only and in all the silent ambience a door slammed so hard, three of us started screaming and pushing the lift button. After a while the lift came and we managed to come back on the location and told the whole incident to everyone. We were scared as hell!
Anything in personal that happened to you while shooting?
Aah yess!! The watchmen had told us that everyone coming here for shooting has always got harmed some way or the other and we all took it lightly. It was the 3rd day of the shoot when I was drinking a cup of hot green tea and I don't know how but it all got spilt on my tummy all of a sudden. I burnt myself badly. I was taken to the hospital and the whole shoot was stopped for 10 days till I could recover a little. Not only me but almost everybody had some experience or other.
Did you ever think you will be starting your career in bollywood with a horror film?
Yes! You can say it was like my dream to act in a horror movie, I admired Bipasha a lot in Raaz and loved her acting. Infact, I used to enact her scenes in the movie at home taking a bed sheet and all. I am extremely thankful to Vikram Bhatt for giving me this opportunity.
After Vikram Bhatt who is your Dream Director?
I would love to work with Anurag Kashyap as I also have a liking and interest towards intense film that he makes.
Any 5 horror films that you love watching over and over again?
The Possession Of Emily Rose, Mama, The Pact, The Possession, Raaz (all the series) and off course the most recent one Conjuring.
What are your upcoming projects?
Yes I am doing Vikram Sir's another film Creature where I am playing a very pivotal role and then am doing Mumbai 125kms.