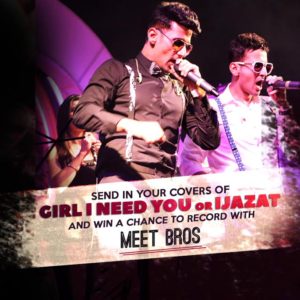 The musical duo, Meet Bros had got everyone raving about their upbeat and catchy tunes. After their successful spell of party numbers like 'Pink Lips', 'Baby Doll' and 'Chitiyaan Kalaiyaan' amongst many others, the brothers have mastered the romantic genre as well. The year 2016, saw the duo releasing romantic tracks like 'Ijazat' from the film One Night Stand and 'Girl I Need You' from Baaghi, which were instant hits with the audience. Looking at the wonderful reception by the fans, Meet Bros are on a social media hunt for the most talented cover artist for their songs.
The contest was announced looking at the number of covers that were made daily by their music-lovers across the globe. The brothers will personally select the winner, who will get a once-in-a-lifetime opportunity to record a song with them. Talking about the opportunity, Manmeet from Meet Bros, said "We were absolutely loving the quality of  singers that were making covers of the song, much before announcing the contest. They were so good that we also called them to our studio for auditions. That is when we realised, if we are planning on giving someone an opportunity, might as well give everyone an equal chance. We look forward to shortlist from the entries that we have been receiving."
The dynamic duo are certainly in the best phase of their career after bagging eight prestigious awards for their music in the film 'Roy'. They have introduced some of the most talented voices to the music industry including Kanika Kapoor and Khushboo Grewal. Here's a golden opportunity to be the next big thing for all the singers out there!
Meet Bros Social Media Links:
https://www.facebook.com/MeetBrosOfficial/