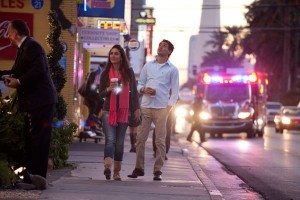 Imran Khan and Kareena Kapoor fans in the UK can win a chance to meet the duo in London on the 31st January 2012 up-close and personal. Khan and Kapoor are set to visit the British capital at the end of this month to promote Karan Johar's Ek Main aur Ekk Tu, a UTV Motion Pictures production directed by Shakun Batra.
Their promotional trip will include meeting the UK press and they will also meet fans at Cineworld in Feltham, one of the highest grossing cinemas for Bollywood outside India. But wait.. that is not all! You have an exclusive chance to meet Imran aka Rahul and Kareena aka Riana in person because UTV Motion Pictures and Dharma Productions have teamed up with B4U Network to celebrate the release of the film and are running the exclusive 'Ek Main Aur Ekk Tu Valentine Jodi Competition.'
So how does it work? Fans over 18 can submit their 'Valentines Day love story' here and the best two will be chosen by stars themselves. The lucky winners will meet Imran and Kareena at Cineworld in Feltham on 31st January in the evening.
Don't worry if you don't win because the actors will also interact with other fans and will make sure that you won't forget your Ek Main aur Ekk Tu day easily, so be there from 6 pm!
The much awaited rom-com produced by Dharma Prductions will release in UK cinemas on 10th February 2012.