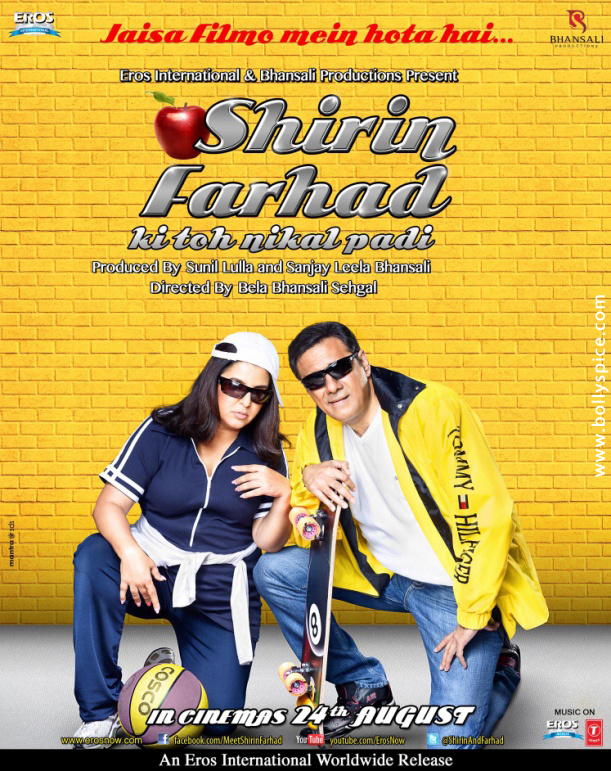 Shirin Farhad Ki Toh Nikal Padi continues to surprise its audiences. To begin with, the trailer of the movie received accolades for being a potentially unconventional movie with a unique story line that even Madhuri Dixit couldn't resist but make positive remarks on.
And this time Shirin and Farhad chose yet another way to amaze their fans by appearing in the avatar of one of the most loved characters in the industry – Rahul and Anjali! Yes, you heard it right. On Monday, Farah Khan and Bomani Irani went to Golds Gym, Bandra for the promotion of their movie where they revealed the 2nd official poster. The event was flooded with media officials and what made the event even more exciting were Shirin and Farhad themselves, who entered the event in the avatar of Rahul and Anjali from Kuch Kuch Hota Hai, the reason for which is clearly visible in the official poster.
Speaking of Kuch Kuch Hota Hai, the first person that comes in mind is the director, Karan Johar. KKHH was his first directorial venture at the age of 25. Hence, to grace the event who could have been a better choice to inaugurate the poster of Shirin Farhad Ki Toh Nikal Padi than Mr. Karan Johar himself? Karan Johar added to the charm of the event by revealing the 2nd official poster and the press couldn't stop taking pictures.
Later, the event took a frolic turn as the 3 celebrities Farah Khan, Boman Irani and Karan Johar interacted and hung out with the media, not to mention their posing for reporters. Just like its event the movie Shirin Farhad Ki Toh Nikal Padi will surely be a complete entertainer. Gear up to meet this unique couple this 24th August, 2012.
To stay tune with Shirin and Farhad join them – http://www.facebook.com/MeetShirinFarhad
Follow: https://twitter.com/ShirinAndFarhad