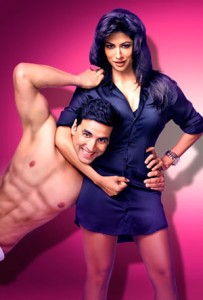 Akshay Kumar as Jerry aka Rocco
Born as Jignesh to a modest Gujarati couple, Jerry changed his name the minute he sat on the plane to come to UK 12 years back! Jerry's life is a hedonistic series of shortcuts involving dropping out from college, changing several part-time jobs and living off his best friend Nick – the only stable factor and ultimate safety in his life.
Chitrangada as Tanya
From being the fat, 'KFC Kid' who was the butt of all jokes, Tanya Mehra blooms into a drop dead gorgeous and successful Economics teacher at Trinity College. Her no nonsense professor façade hides a crazy and wild Flower Child interior. She lives life in the moment and fully, not letting anything hold her back from following the beat of her heart.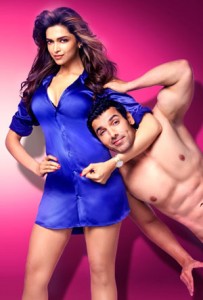 John Abraham as Nick aka Hunter
A graduate of London School of Economics, Nick Mathur is a prototype of the boy every girl wants to make her parents meet. Loyal friend, reliable boyfriend, stable investment banker and all round sweet guy. He happily pays the rent and supports his best friend, Jerry, and provides for his fiancé Radhika's dream wedding and honeymoon, not realizing that, he has turned into an 'ATM card' in Jerry's life and an 'LIC agent' in Radhika's.
Deepika Padukone as Radhika
A professional architect, Radhika Awasthi lives in a fairy tale bubble – Dream boyfriend, dream wedding, sensational honeymoon. As much as she loves Nick, her idea of romance is more practical than poetic. It is this cynicism that prevents her from understanding Nick and Jerry's friendship. Ironically, as much she resents Jerry for using Nick, she is blind to how much Nick humors her idea of a 'perfect' life.