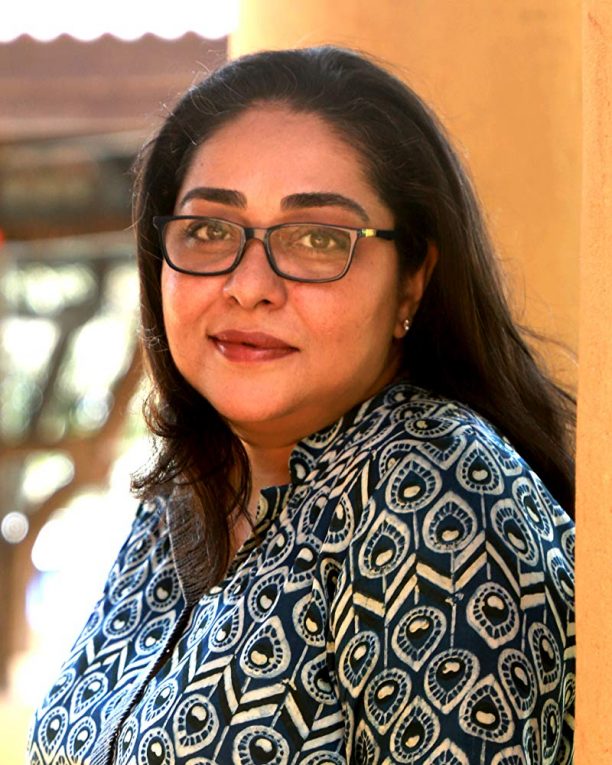 Noted director Meghna Gulzar of critically acclaimed films like Talvar and Raazi has turned her focus to a new tale. Starring Deepika Padukone, Chhapaak is a film that looks at acid violence through the lens of the real life story of Acid survivor Laxmi Agarwal.
To set the stage here is the trailer

In Chhapaak, Deepika plays Malti, a young girl who comes from a humble, unprivileged background. Malti was attacked with acid on a street in New Delhi, in 2005. Her assailant was a man twice her age, whose advances Malti had clearly declined. Through Malti's story, the film makes an attempt to understand the on-ground consequences of surviving an acid attack in India, the medico-legal social state of affairs that transpire after the acid has been hurled and the face is irreparably burnt.
Meghna Gulzar talked with Stacey about making Chhapaak, the experience of working with Deepika Padukone and so much more.
What draws you to the stories and movies you want to make?
Stacey, I feel I am telling my stories for the audience. I am not making the movies that I want to see. I feel that if I make films on stories which emanate from our society – the connect with the audience is more immediate. It is deeper. You know, it is not that I just want to keep making true life films all the time, but it just coincidentally so happened that my last three films have been based on true-life incidents. But even if I am doing fiction, the stories that I want to tell – I want them to resonate with my audience. I want it to stay within them. I want them to take a bit of it away with them. I really do want it to last longer than the tub of popcorn they will be having while watching the film.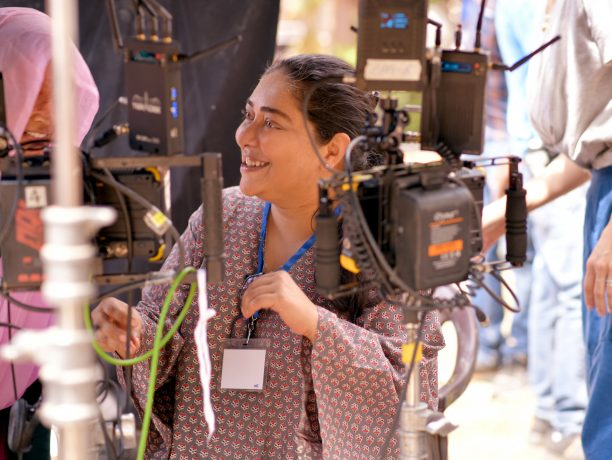 What was it about this story that you knew you had to make it into a movie?
When you look at the issue of acid violence in our country – Laxmi's case was actually the most landmark case on acid violence because she was the one who actually started the litigation and put in the petition to ban the sale of acid. Hers was the first case where her attacker got a 10-year sentence. Acid laws changed post 2013 which impacted a lot of the survivors. The attackers stopped getting bail and much more. Plus, she also was the most known face of acid attack survivors – she was an activist herself. She actually took her trauma and weaponized it, if you must, for the betterment of other girls like her. For me, she is an extremely inspiring personality and it was an extremely compelling case.
I love that you described her story as strength, resilience, courage and hope, how did you instill all that into the film and into Deepika's character?
I think it kind of flowed from Laxmi's personality herself and the way she has lived her life and the choices that she has made. There was very little emotionally that I would like to fabricate in the film if I am making a film on a true-life incident. It wouldn't be honest to do that. All you can do is enhance it a little by shuffling the screenplay around a little but that is about it. The core physical and emotional data and notes, I don't think you should meddle with when making a true-life film. So fortunately for us, we had a character who was hopeful in spite of everything that happened to her. It was just important for us to be able to communicate that correctly to the audience. To say look she is not a Victim! She doesn't consider herself a victim and neither is Malti in the film a victim.
Did you always see Deepika in this role?
Yes! Always! Even when we were writing it. We thought we were crazy to expect Deepika to do this film. (You can hear her smile) But she surprised us! Her first step into this film was a surprise and then she has surprised us through this entire journey with how she has internalized this character, how she has made it her own. It has been beautiful.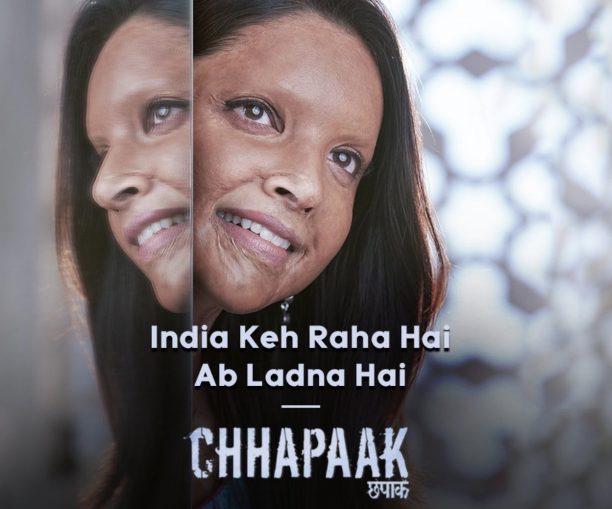 You know with Deepika, for me her eyes speak so much, in the poster you see her and you see every emotion in her eyes both reel and real and then also in the trailer…
Yes!
This must have been quite the emotional journey to make – was it hard to let go of at the end of the day and at the end of the film?
It was difficult for her. I don't, if it is fortunately or unfortunately, have a filter that comes on when I am making films like this, because I can't let myself get emotional. I need to maintain my objectivity or I will not be able to function. And more importantly it will reflect on my cast. So I will process this emotionally once this releases. I can't process that emotionally making the film.
For Deepika, yes, there were days were it did overwhelm her. The gravity of the situation did overwhelm her. It did daunt her. But never was there a day that she said not today, let's try this tomorrow. She just dove right in. She took it head on, which actually was fabulous.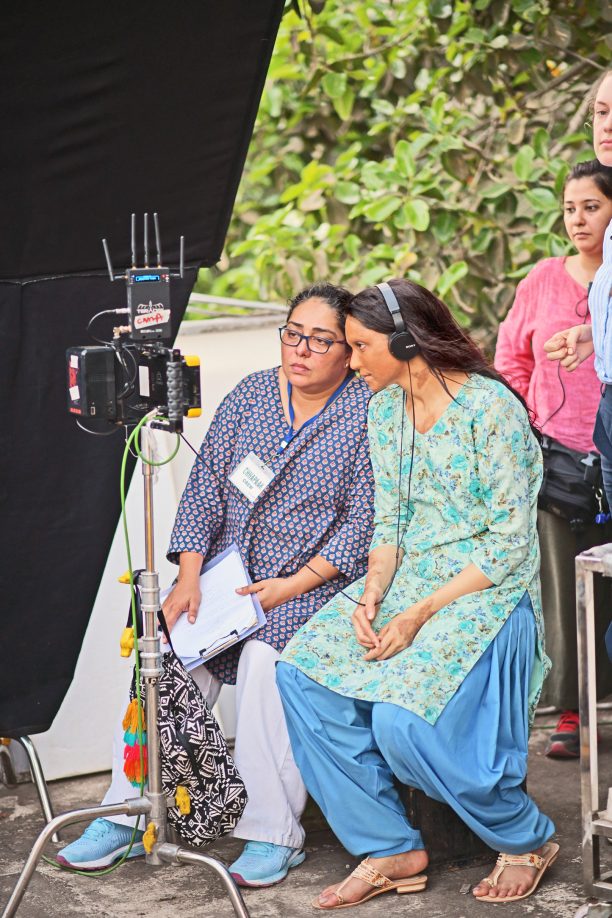 What was your and her first reaction when you saw her in the full look of Malti?
You know, very strangely I, and she says it as well, that the first time she saw herself she said I feel like myself and I could see her! See the idea was not to make her look like Laxmi, but to create a face that would be the face of Deepika, God forbid, had she gone through this. It was a disfigured Deepika's face and what her face would like had she been disfigured by an acid attack, right? So the essence of Deepika is still there in Malti and like you very rightly said, particularly in her eyes she is still there.
What was the most important thing you wanted to make sure was put across through this story?
Actually Stacey, I don't like to lead my audience to feel a particular thing or think in a particular way because I feel that it colors their viewing experience. I want them to come in expecting whatever they want. Whatever they made of the trailer, of the communication and leave with whatever they take away from it. It is after they have experienced they film that I will speak about what I want the film to do or say. I don't want to color their viewing experience before that.
Did you take anything away yourself as a person and as a director from making this film?
I did. I did. As a director, for me the challenge was to make this story visually aesthetic. Because you want people to see it, you want people to know about this story, know about this issue, you want people to talk about it. You don't want to turn them away because they are expecting horrific visuals. Right? So a visual aesthetic about the film, which is palatable for the audience, was a challenge. Fortunately the team really kicked in together. My cinematographer, my costume designer, the production designer, the make-up artist – everybody took their brief and ran with it. So, fortunately what I have is a very aesthetic film on acid violence. I didn't know how we would achieve that, but it happened. And it happened organically without us having to try too hard and that is a very good thing.
As a person, I feel that whether it is an acid attack survivor or a rape survivor or accident survivor or any person that has been through a trauma in their lives – I think sympathy is the last thing they need. One must begin with empathy and end with inclusion.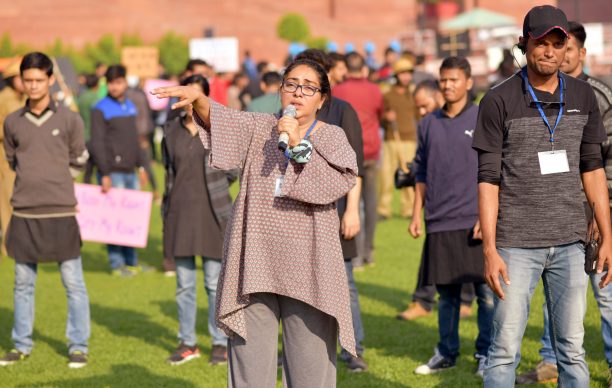 Looking back over the experience of making this film what would you say?
It was extremely gratifying experience. It is a work we are all very proud of. I mean there is a nobility to telling this story, that is not why we chose to tell it, but I and I think I speak for the team, feel very proud and there is an immense sense of contentment that we got the opportunity to be able to do this.
What do you love about being a part of film and being director and that is your job.
You know, I don't look at it as a job because honestly I don't know how to do anything else. (Smile) The sheer joy of seeing black and white text on a page translate into characters and dialog and scenes and costumes and set and just come to life. Just lift off of the paper and come to life, there is nothing more magical for me than that.
What do you have after this?
I do need a stretch of down time after this film. I have a film on India's first field marshal Sam Manekshaw, which I will get into after a bit of a break.
I would like to thank Ms. Gulzar for the fascinating conversation about Chhapaak!
Chhapaak is in theaters January 10th.