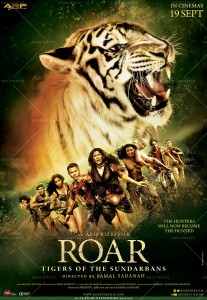 The makers of Roar: The Tigers Of The Sundarbans, set out with one objective – to enthrall audiences with sights and sounds that would create an experience like no other.  Background score is the lifeline of any film, it accentuates the integrity of a scene and the story telling.
John Stewart Eduri worked on the score for months until he created compositions that would bring out the magnanimity of the Tigers and the vastness of the Sundarbans. An Orchestra from Budapest was hired to play the string and trumpet sections.
Producer and co-writer Abis Rizvi justifies the need to go all the way to Europe for the music. He says, "The genre is such that we needed something that could make the audience sit up and respond. In our experience, we have realized that background music plays an instrumental role in some of the best thrillers made in Hollywood. When Kamal wanted a particular kind of music I completely agreed with him. And from the way the film has shaped up now, I am really happy to see that our efforts have been vindicated."
The final sound mix was complemented by the skills of none other than Oscar winner Resul Pookutty who insisted to deliver the film in Dolby Atmos – a technology that has just been introduced for the projection of sound in wide screen cinema.
Thrilled with the way Roar's music has turned out, both Abis and Kamal are now considering the option of releasing an album of the background music. "It has happened in the past, but not since many years. The album would definitely be something that lovers of music would love to lay their hands on," concludes Abis.
Roar: Tigers Of The Sundarbans, produced by Abis Rizvi, releases on 31st October.