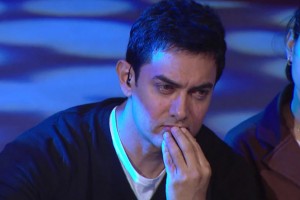 The perfect example of 'neki kar dariya mein daal' is what Aamir Khan must be thinking right now. His show Satyameva Jayate, which aired its first season this year  and achieved a lot of fame and agreement, was opposed by men's rights activists saying that the show is 'showcasing men in a bad light' and as a result of this outrage, as many as 15000 families are boycotting Aamir Khan's film Talaash. They say the boycott will continue for his other films if he does not apologize.
One of the founders of Save Indian Families Foundation (SIFF) Mr. Anil Kumar confirmed the news and said," Half knowledge is dangerous. Satyameva Jayate showed only half truths about many issues, including domestic violence. Our observation of Aamir throughout the years tells us that he has always had an anti-men agenda which is very unhealthy as it stereotypes men to be the bad ones. We are not going to watch Talaash or any of his movies until he realizes that like other celebrities, he also needs to encourage good causes and not stereotypes. Violence should be eradicated from movies also, not just houses. We will also try to keep other people from watching his films."
Virag Dhulia, who is the head of Gender studies at a mens 'rights center said that they are not against Talaash, but against Aamir Khan. "Our main message to Aamir through this boycott is that he cannot demonise the image of men like that by showing the society partial truths. We even sent across statistics and evidence to the show which were different from his data but they were never showed. Aamir has social responsibility as the audience believes what he says because of his position in the society. He has to apologize for this. If defaming men was not a problem for him, then apologising should not be one either, "he stated.
Aamir Khan's Talaash released on 30th November, starring Kareena Kapoor and Rani Mukherjee as well.