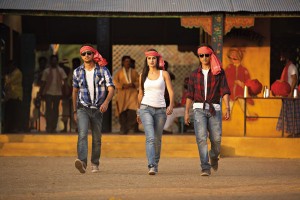 Yash Raj is a production house that has given us some timeless classics and introduced many new directors. Once again, it brings us yet another with Ali Abbas Zafar in his debut film Mere Brother Ki Dulhan. Now with Rocket Singh and Dil Bole Hadippa being average fares, Mere Brother Ki Dulhan has got its fair share of expections banked on it. Beyond the success of the films, the lead cast of Imran Khan, Katrina Kaif and Ali Zafar are all set out to try their luck again with each of their last films Delhi Belly, Zindagi Na Milegi Dobara and Tere Bin Laden working well. But sadly, this is far from a classic that the production house is renowned for nor is it the best work of the cast. We do need to give the director credit for bringing Imran, Katrina and Ali to the screen and even though the story is pretty much evident from the title/trailer itself, it does have its good points. However, the film's predictability and major loopholes tarnish the experience.
Ok, so we get right to the point and say it isn't path breaking cinema of a story about a guy, Kush [Imran Khan] who sets out to find his NRI brother Luv [Ali Zafar] a bride. But by the time he finds the perfect one in Dimple [Katrina Kaif] and arranges the alliances, he realises that he loves her. From here, its a game of conspiracy as Kush, Dimple and their buddies in crime race against time to break the alliance Kush helped form without hurting the one whom he did it for, his brother Luv. Quite simple and unfortunately, quite plain as well.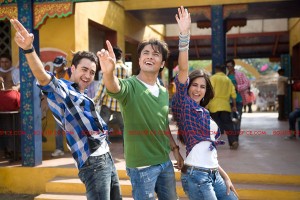 In essence, the performances by the whole cast show their effort to convince the audience of this film. Imran Khan doesn't let any lingering side effects of his Tashi from Delhi Belly come in sight as he plays film director Kush rather well. Yet you still wish he went all out where he could have instead of being so restricted. After all, he's supposed to be a dutiful bhai, not a demure one. Katrina tries really hard to be a vivacious Dimple, a girl that is a rebel on the outside that strives to have her own fun but inside would feel bad if she did anything to hurt her parents. She succeeds to a degree but then becomes a cartoon for the rest of the time. Ali Zafar unfortunately, is not seen on screen enough for the natural performer that he is. Barring the fact of his blind faith in his brother that sees him exploited in comical manner, he fits the bill. The Kingfisher model-turned-actress Tara D'Souza needs to brush up her acting quite a bit. Mohammed Zeeshan Ayyu is quirky but nice as the sidekick friend helping to break the alliance, Shobhit while Ajju played by Afreen Khan does well in the role of Dimple's autistic brother. The rest, and there are a lot, make do with their scenes and add to the film.
Due credit must be given as the dialogue is written so that the supporting cast gets the best lines, not just the leads, and there are no obvious bad traits to scrutinize and discriminate against the lead characters, something often happens so the audience favours the main lead couple. But thats not to say the clichés arent there. From the so-called "connecting moment" Imran-Katrina and Katrina-Ali combos to how they get out of their situations, some things are so obvious, you simply get bored. After the interval block, where there could have been some major funny bits, there is a whole bunch of outdated gimmicks and questionable writing.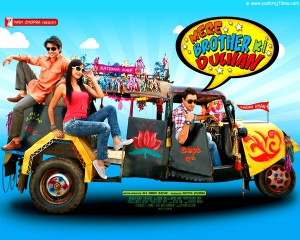 I guess what's so disappointing is that with a fun soundtrack by Sohail Sen, great visuals by Sudeep Chatterjee and apt editing by Ritesh Soni, director Ali failed to capture and enhance the fun quotient in his writing for a tried and tested formula. Clearly logic isn't on the agenda, but at least make the proceeding a little less predictable.
So while the music is great and the performances commendable, Mere Brother Ki Dulhan lacks originality and leaves one guessing what it would have been like without the loopholes.