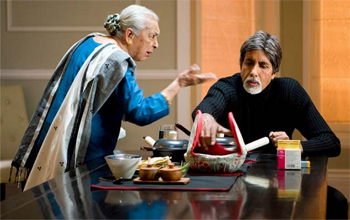 Out of all the characters that you will come across in an Indian film, one that you will rarely see go astray is a mother. That too, the hero's mother. She is an entity that restrains him with no physical bounds, gives him strength like no other energy drink, drives him to lengths beyond imagination (all within 2.5 hours) and without her, teaches him lessons universities worldwide have yet to discover. From being a sari clad soap opera box drama queen to a sophisticated career driven business magnet, she has transformed in front of us but one thing remains. The positive energy one feels from our filmi "Ma". It may be a scene or a song, but she is there and her love unconditional. Yes, there may be some stories that forget about her, yet there is no denying, our cinematic mothers have sometimes been the saving grace for our films. They are funny, caring, intelligent, wise, spontaneous, and above all, loving like no other.
Many of the current mothers on screen were yesteryear leading ladies but their charm and grace is felt even now. We loved them then and we love them even more now. So for Mother's Day, we celebrate this wonderful person and compiled a random list of Bollyspice's favourite filmi Ma's.
First up, we have the lovely Zohra Sehgal. At the full of life age of 101, Zohra gave Big B himself a run for his money in Cheeni Kum as the wrestling-loving street smart mum who nags her son to go to the gym. Whether it's Buddhadev's bossy momma or the cheeky Bebe that makes you cry a little as well from Veer-Zaara, she plays mother dearest in a full feisty form.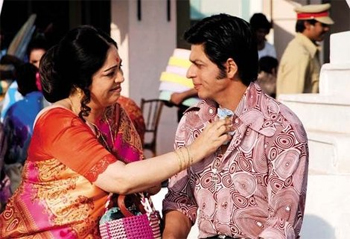 But she isn't the only one. Throw anything at Kirron Kher and she will lap it up, douse it with her theatre artist charm and make kheema out of the critics. In 2002, she dazzled as Sumitra in Devdas, switching from excitement to betrayal so elegantly, her on-screen daughter Aishwarya Rai would have gotten a complex. But like a flip of a coin, her Bela Makhija in Om Shanti Om and Seema Acharya in Dostana give you the giggles as this spunky mama, quirks and all, tries to get her head around your ideas but loves you no matter what till then.
Moving onto the subdued filmi Ma and Deepti Naval's portrayal of Kavitha Bahadur in Guddu sheds light to the devotion side. It would be too easy to show her up against society and her family. Guddu throws in all the stops, with faith in god vs. atheism, father vs. son and life vs. death to show it in full glory. In the end, she loses her life but hey, that's multitasking on film for you and there were bound to be a few bruises.
Another woman that breathes life into the loving Mrs Sharma in Kuch Kuch Hota Hai, with grace that brings a tear to our eyes and  is nothing short of stellar in performance as the torn Mamta in Hum Saath Saath Hai, juggling fear of reality and her own children's future is Reema Lagoo. Between these two films (even though she plays his mother in law to be), it's hard to deny Reema has this special connection with Salman Khan that is awesome to see on screen. No matter the length of her role, Reema delivers. Period.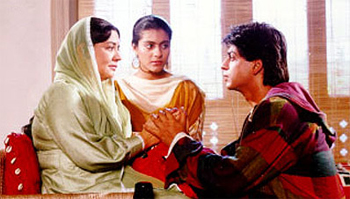 Wherever you stand with Farida Jalal, there is no denying her as one of the free spirited filmi Ma's out there. Yes, Lajwanti Singh aka Lajjo initially tries to tame her fantasy fluttering daughter Simran in DDLJ but she stepped out of her boundaries for her love and happiness. Mrs Chaudhary and Mrs Khanna (incidentally both SRK flicks, Duplicate and Kuch Kuch Hota Hai) may be ridiculed as they look at life within their principles but doesn't let that stop them or their children from achieving happiness. Proceed to take a turn left on memory lane to the 60's, when films like Mughal-e-Azam, Love in Simla and Dil Apna Aur Preet Parayi creating history in their own way. Here, you will find Durga Khote dancing from the kind hearted but distraught Maharani Jodhabai in Mughal-e-Azam to the trouble making mother in law in The Householder. She is likable even if you hate her actions and shows how the intention may never make up for the act. An actress who played a huge part in Filmi Ma history and one that is sorely missed.
Flash forward in time again and to the introduction of the very famous "Angry Young Man" and we bring out the strong will that is the driving source. The virtuous Sumitra Devi played by Nirupa Roy in Deewar, a hard-working single mother defined sacrifice, pride and all that was motherly. Even as she walks away from a strayed son, with the words "You have yet to earn enough to buy your mother, Vijay", you knew she would survive. But hell hath no fury like a woman, scorned, especially when she is Durga Singh and Kali Mata behind her. There was no timid, frail woman who lost her sons in Karan Arjun. It's about evil getting its just desserts, even if Durga has to pray for her son's to be reborn. The one –up man ship between the brothers is towered over by the faith of Durga and Rakhee plays it like she means it. Jai Ma Kali!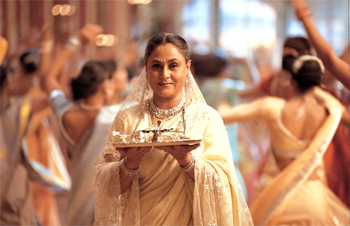 Okay, so when our filmi Ma is not dealing with crazy situations that life throws at her, she strives to keep her family together and make ends meet. Jaya Bachchan may be royalty off-screen but on-screen and as Jenny Kapoor, sometimes emotional baggage isn't a choice. All emotions are diverted into making it work and we simply see her as the bread winner. Rekha takes it a step further with her character Saritaji who takes on the responsibility of raising the illegitimate child that constantly reminds her of her on screen husband's affair and hold the fort at work too, in Dil Hai Tumhaara. Both women are prime examples of doing the right thing comes before preference. Jaya's Nandini Yashvardhan in Kabhi Khushi Khabie Gham and Rekha's Sonia Mehra in Koi…Mil Gaya, take on the challenge from life to sustain the roots for the family.  Even if that family includes an alien, named Jaado.
If an alien can be accepted then taking on a peculiar profession with a culture-shock inducing girlfriend should be a piece of cake! Not exactly. Dolly Ahluwalia brought life to Mrs Arora, a hard working middle class woman but shifting gear from Nirupa and Jaya on righteousness, this filmi Ma runs a beauty parlour and loves her drink in Vicky Donor. She earned it, I say. Probably didn't expect her son to drop a few bombshells as well though.  But no worry. She comes to terms with life, passes her judgement and that's final. Time for beta to toughen up and who better to show him the ropes than Ma. Regardless if we feel these lovely beings can go overboard to the point being control freaks. Err… in a good way.
Kajol may have been the saving grace of We Are Family but Maya sets the rules, shows how it's done and there's no two ways about it. K3G had Anjali add in nagging as well out of fear if she doesn't, her son would lose the connection she has to her roots. For Zooni, the same concept is delivered in a more learn from my mistake in Fanaa. But whichever role is followed, the rules of life are planted firmly, with love.
So there you have it. There are many more and possibly more to come. However, we love our mothers, whether we can enjoy their presence or live in fond memory. Or resort to the never-ending list of Filmi Ma's. She is the source of fun, love, compassion and dedication like no other. And deserves so much more. Happy Mother's Day to all from Bollyspice.