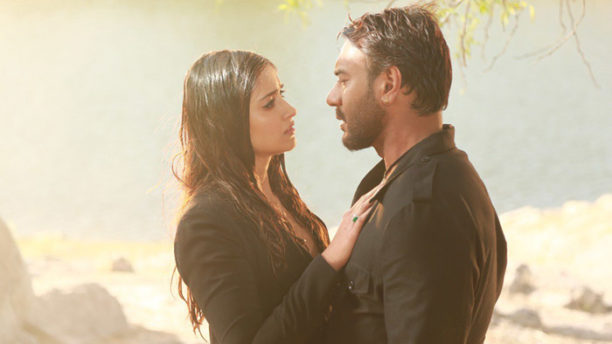 It's very rare when a recreated track of an already popular track becomes an instant hit. But when it comes to Baadshaho's first song 'Mere Rashke Qamar', the song went on to become a hit. The next day of the song launch, this sufi track garnered as high as 10 million views combined on YouTube and Facebook. Within one week the song has crossed 23 million views solely on YouTube and still counting making it a huge chartbuster.
Bhushan Kumar who says it is very difficult to stand up to the success of the original song's composition is overjoyed with what the team has achieved with the recreated version of Nusrat Saab's song. Showcasing the romantic storyline between Ajay Devgn and Ileana D'Cruz, its soulful melody adds a soft touch to the rough and ready feel of Baadshaho.
Where Tanishk Bagchi has composed the recreated version which is a beautiful amalgamation of Nusratsaab's composition and fresh take to the song the meaningful words behind this song can be attributed to Manoj Muntashir, who brought new life to this beautiful track, with fresh lyrics.
Bhushan Kumar who has immense respect for Nusrat Fateh Ali Khan Saab's work was elated with the fact that he could recreate one of his popular songs for Baadshaho. Bhushan Kumar said that Mere Rashke Qamar is a track that he had in mind since a year and half. He always wanted to work on that track for one of his films. And when they wanted a song that could speak the camaraderie between Ajay and Ileana. What better than this Nusrat Saab's melody. He procured the rights of his popular track Rashke Qamar and he is thankful to Rahat Saab to have given his voice for this song. This Sufi version made for Baadshaho is soulful and lyrics are meaningful. He is so fortunate that their film track has received so much love and is an instant success.
Milan Luthria on the other hand has worked with Nusrat Saab in his previous Kacche Dhaage was happy to get another track from the master of Sufi's album. The legacy has come full circle, as this heartfelt tribute was sung by Rahet Fateh Ali Khan in honour of his uncle, Nusrat Fateh Ali Khan who trained Rahat, while Kachhe Dhaage was being made. Milan was thrilled and promised Bhushan Kumar a spectacular picturization. "24 hours after the song and had shocked us by climbing to the top of the charts, I spoke to Ajay late at night. It was an emotional conversation about how one of my mentors Nusrat Saab, had found a way to touch our lives again."
Baadshaho, directed by Milan Luthria, produced by Bhushan Kumar, Krishan Kumar & Milan Luthria releases on 1st September 2017.