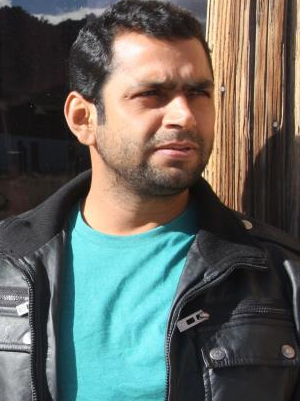 Sharib Hashmi first caught my eye in Jab Tak Hai Jaan as Shah Rukh Khan's roommate, and I thought this was an actor we would see again. And here he is in a National Award winning film. Sharib stars in Nitin Kakkar's Filmistaan, which won the National Award for Best Hindi Feature Film in 2012. Though showcased at film festivals around the world, it has taken a while for this critically acclaimed film to get to theaters, but now audiences will finally get to experience the magic of Filmistaan when it releases on June 6th.
Sharib plays the starring role of Sunny Arora, a wannabe actor and assistant director who, more than anything, wants to be a hero in a Bollywood film. Through a series of misadventures, including a kidnapping to Pakistan, Sunny finds himself staying with another Bollywood fanatic, Aftaab. What happens next shows how Bollywood can bring people together.
I was very lucky to get the chance to chat with Sharib about the film and it was truly a wonderful experience. Check out our fun, laughter-filled and heartfelt interview about all things Filmistaan.
How did you become a part of the film?
Actually I was also a part of the scripting of the film; I have written the dialogues of the film. So while writing the film I used to think this is something which is right up my alley. Nitin, the director, thought the same. He said this role suits you and if I get a producer I might cast you. (Laughs) When he found the producer he really offered me the role and it was an offer that I couldn't refuse. He made me an offer I couldn't refuse. (Laughs) He did audition me and finally, luckily, I got selected.
What inspired the story of the film?
Inspiration…Nitin will be able to answer this properly because it is his baby; it is his concept, his story. So I won't be able to comment on how this story came into picture. We've always been planning to write something based on India-Pakistan relationships and we were working on partition based stories written by Saadat Hasan Manto, but they were a little dark and grim. So people used to tell us do something light-hearted, do some comedy. Then Nitin came up with this idea. Now how he came up with this you'll have to ask him.
Tell me about your character and how you prepared to play the main character in the film.
My character's name is Sunny Arora and he's a big Bollywood buff. He grew up watching Bollywood films. So even in his normal day-to-day life the dialogues he speaks are from Bollywood movies. Like if he needs to ask somebody when is Holi he will say it in Gabbar's voice, 'Holi kab hai? Kab hai Holi?' So he is that filmy. (Laughs) In my personal life I am quite like Sunny Arora, almost 60%. I have been a big Bollywood buff since my childhood. I grew up watching Hindi films. My dad was a film journalist, so celebrities used to come to my house for interviews. I used to go to movie parties. So I saw that glitterati and everything when I was a kid. So I had this thing that when I grow up I will become a hero. But I never grew big enough. I am just 5'4. (Laughs) So I quit my dream of becoming an actor and started pursuing writing. I've been a writer all my life though secretly nurturing the desire of becoming an actor one day. Finally I decided to quit my job and pursue acting full time and that's how I got Jab Tak Hai Jaan and then Filmistaan.
Seeing the scenes in the trailer, there are some scenes where you just had to let go and go fully into the madness of the scene. How do you do that?
I let myself loose completely. I was following Nitin Kakkar blindly and he gave me a free hand – so it worked both ways. Since I am a lot like my character Sunny Arora that helped a lot. Although I had to work on my Punjabi accent because I am a Bombay boy, otherwise everything was in my comfort zone. Though the emotional scenes were very tough for me to enact. So that was very, very emotional for me and very difficult and challenging to do those scenes. In the camera sequence and the climax there were a couple of scenes where I confess to my Pakistani friend Aftab that were difficult.
The film has been amazingly received at film festivals and then of course it went on to win a National Award…
Oh I am completely ecstatic about it. I can't believe that I am a part of a film that has won so many awards, which has won the Best Hindi Feature Film National Award. It's like a big high for me. And since I have played the main lead, it's all the more bigger for me. I can never thank Nitin enough for taking me in the film and believing in me and having the conviction in me that I could pull off something so powerful. Such a nice character he gave me and I will always be thankful to him and God and everybody and all my friends.
What can audiences expect when come to see Filmistaan?
They should expect a lot of love, a lot of laughter and a lot of thinking when they go back home.
Why do think it has taken a while to get a mainstream release?
You know Bollywood works in a certain kind of way. They need big names and in Filmistaan there are no big names attached. Nitin Kakkar, it's his first film as a director. We are nobodies, all the cast. We are not popular…as yet. Maybe after the release things might change for us but right now the fact is that we are not known. So maybe that's the reason it took time to find a producer and distributor. Fortunately for us, Shringar and UTV saw some potential in the film and they bought the film. It is a really, really good thing that Shringar and UTV came on board. It is the best thing to happen to Filmistaan.
So Mr. Amitabh Bachchan has tweeted his praise for the film.
It was such a big pleasant surprise for us because I've grown watching Big B's films. He has been a big, big, big inspiration for me as an actor. I've seen almost all his films and Deewaar some 10-20 times, Coolie some 60-70 times, so many of his films. In Filmistaan we've used a lot of his lines like 'Aaj khush toh bahut hoge tum,' 'Mard ko dard nahi hota,' and so many other lines. So I'm still not able to come out of it. It still needs to sink in that Big B has tweeted about MY film. I'm in heaven right now. Cloud nine.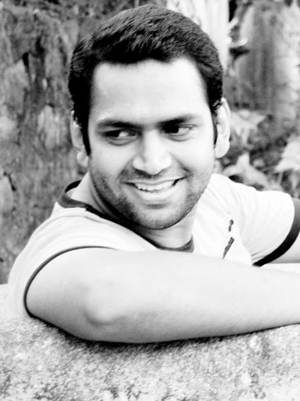 Seeing the film now after filming it so long ago, what are your thoughts?
I do feel sometimes that I could have done that scene better and sometimes I cringe and am shocked too. But overall I am really, really happy and very proud of Filmistaan. It is the proudest work of mine till date. It will always be close to my heart. Every time I watch it I feel happy more than anything else.
What's your favourite moment of the film?
For me, there's a confessional scene between me and Inaam and that's one of my favourite and toughest scenes. That is something which I really, really like a lot.
What would you say is the message of the film?
The message is cinema can transcend all the borders, all the barriers. Films are the biggest way to unite people across the borders and we have tried to convey that message not in a preachy way. We've said it laughingly with a light tone and that's the way to be because nobody likes to preach.
So what is next for you?
I am meeting people, I've read a couple of scripts but I haven't finalized anything. Maybe after the release I'll get more offers and I'll be able to choose some good subjects. I hope so.
We are sure we will see him in many more films! Filmistaan, which also stars Inaamulhaq (read his interview here), hits theaters tomorrow June 6th.
Check out the trailer to get you ready for what we think and what the critics are saying is a fabulous film!
http://youtu.be/p-0LWnz8Ut0